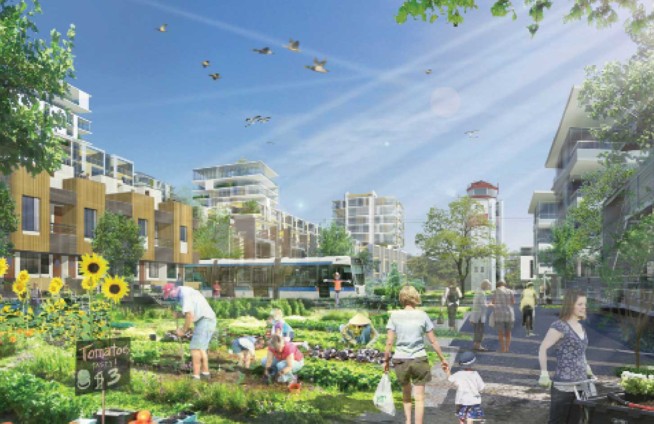 GLOBE-Net, August 20, 2014 – The International Union of Architects (UIA) has adopted a Declaration committing its member organizations and partners to exercise leadership in planning and designing sustainable, resilient, carbon-neutral and healthy built environments in the world's cities and towns.
Recognizing the central role architects play in planning and designing the built environment, and the need to reduce carbon emissions to zero by 2050,  the Declaration adopted at its 2014 World Congress in Durban, South Africa last week commits the signatories* to:
Plan and design cities, towns, urban developments, new buildings, to be carbon neutral, meaning they use no more energy over the course of a year than they produce, or import, from renewable energy sources.
Renovate and rehabilitate existing cities, towns, urban redevelopments and buildings to be carbon neutral while respecting cultural and heritage values.
In those cases where reaching carbon neutral is not feasible or practical, plan and design cities, towns, urban developments, new buildings, and renovations to be highly efficient with the capability to produce, or import, all their energy from renewable energy sources in the future.
To commit to the principle of engaging in research and setting targets towards meeting the 2050 goal.
Advocate and promote socially responsible architecture for the community.
Develop and deliver equitable access to the information and tools needed to:
o   Plan and design sustainable, resilient, inclusive and low-carbon/zero carbon built environments.
o   Design no-cost/low-cost, on-site renewable energy and natural resources systems (e.g., passive heating and cooling, water catchment and storage, solar hot water, daylighting, and natural ventilation systems).
The Declaration recognizes that urban areas are responsible for over 70% of global energy consumption and CO2 emissions, mostly from buildings. More than 50 cities in North America have already committed to an 80% carbon reduction by 2050 (see p.7 in the "Toward a Sustainable City" report).
Municipalities are receiving assistance in reaching this target through collaborative efforts that involve both the Urban Sustainability Directors Network (USDN) and the C40 Cities Climate Leadership Group.
At the most recent international GLOBE Conference in March 2014 in Vancouver, Canada, policy makers joined industry experts to explore the opportunities and challenges with striving for carbon neutral cities.
A special panel brought together the co-founder of USDN, the C40's Regional Director for North America, the Mayor of Vancouver, the Director of the City of Copenhagen's Climate Project, a leading engineer, and an architect and green building design expert, to share best practices and engage with the hundreds of conference delegates on some of the key issues.
"The value derived from these discussions is highly beneficial to all those working diligently on various urban energy and GHG reduction challenges through innovative projects," said Paul Shorthouse, GLOBE 2014 Conference Program Director.
"The City of Vancouver has already mandated that all new buildings must have carbon neutral operations by 2020, and events like this can help to bring together important insights on how these municipalities can actually get there", said Shorthouse.
Over the next two decades, an area roughly equal to 60% of the total building stock of the world is projected to be built and rebuilt in urban areas worldwide.
This provides an unprecedented opportunity to reduce fossil fuel CO2 emissions by setting the global building sector on a path to phase out CO2 emissions by 2050, notes the Declaration. The UIA is keenly aware that failing to act now on climate change will put future generations, and those already affected by extreme weather, natural disasters, and poverty, at great risk.
This is why the declaration is a timely message that architects are committed to a truly sustainable and equitable future, coming on the eve of the United Nations Framework Convention on Climate Change (UNFCCC) meetings scheduled for 2015 in Paris.
The 2050 Imperative Declaration is available here.
---
*Architecture Canada is the member section for the architectural profession in Canada to the Union Internationale des Architectes (UIA). All Architecture Canada members automatically become UIA members.