Washington, D.C. – At $1.1 trillion in estimated global revenue, advanced energy grew at a rate more than double the global economy last year, according to a market report commissioned by Advanced Energy Economy (AEE). In the United States, the advanced energy market excluding wind energy experienced double-digit growth the last two years – outpacing the economy by a factor of four – while wind energy saw a boom and bust in that two-year period due to inconsistent federal policy.
The study, conducted by Navigant Research, found that advanced energy in the United States was a $169 billion market in 2013. Excluding the wind industry, which experienced a drop due to uncertainty regarding the federal Production Tax Credit (PTC), U.S. advanced energy revenue grew 18 percent in 2012 and 14 percent in 2013. Revenue from wind installations jumped from $13 billion in 2011 to $25 billion in 2012, then plunged to $2 billion in 2013. Overall, U.S. advanced energy revenue in 2013 was 27 percent higher than 2011 and down 2 percent from 2012.
Download the Advanced Energy Now 2014 Market Report.
In 2013, the global advanced energy market is bigger than pharmaceutical manufacturing worldwide. In the United States, advanced energy market is as large as the airline industry.
"Advanced energy is a vibrant industry and a vital part of America's economic future. That's what this report shows," said Graham Richard, CEO of the Advanced Energy Economy. "Advanced energy companies are delivering technologies, products, and services across our country and around the world. At AEE, we are committed to bringing together business leaders to help accelerate the progress of their industry."
Advanced Energy Economy is a national association of businesses and business leaders who are making the global energy system more secure, clean and affordable. The report, Advanced Energy Now 2014 Market Report, provides details on the most noteworthy trends in advanced energy:
In the United States, the advanced energy market grew strongly from 2011 to 2013 with the exception of wind. Excluding wind, the U.S. advanced energy industry grew 14 percent from 2012 to 2013, over four times the rate of the economy overall, with dramatic gains in Solar, Transportation (advanced vehicles), and Building energy. At $168.9 billion, the U.S. share of the $1.1 trillion global advanced energy market was 15 percent in 2013, up from 11 percent in 2011. The exception was wind energy, which had a severe, $23 billion revenue plunge after a banner year in 2012, due to uncertainty around the federal Production Tax Credit (PTC). 
The most dramatic growth came in the Transportation segment, where revenue from advanced vehicles more than doubled over the two-year period. Hybrid vehicles led the way in revenue, rising from $7.2 billion in 2011 to $14 billion in 2013. The fastest growth came in plug-in electric vehicles (from $707 million in 2011 to $3.6 billion in 2013) and natural gas trucks and buses ($102 million to $530 million in that two-year span). 
The United States has become a major market for solar energy, as solar photovoltaic revenue grew steadily over this two-year period, up 27 percent in 2012 and 54 percent from in 2013. Two-year growth, from $8.2 billion to $16.2 billion, was 97 percent. 
Globally, the Electricity Generation segment grew by nearly 6 percent driven by hydro, solar, and biomass. Revenue from advanced vehicles (led by clean diesel autos in Europe) allowed Transportation to bounce back (up 6 percent) in 2013 from a slight dip (down 3 percent) in 2012, driven by strong growth in hybrid and plug-in hybrid vehicles. 
Steady growth occurred worldwide over the past two years in advanced Fuel Production (up 34 percent from 2011 to 2013), led by ethanol, compressed and liquefied natural gas for transportation, and bio-oils associated with development of non-food-crop-based biofuels. The Buildings segment showed similar two-year growth (up 27 percent), led by advanced lighting. Significant growth in revenue from industrial applications of Combined Heat and Power (CHP) accounted for much of the 26 percent growth in the Industry segment from 2011 to 2013. 
The United States remains a world leader (34 percent of global revenue) in the production of advanced fuels, principally in biofuels and synthetic diesel and gasoline, as revenue in fuel production grew steadily, up 17 percent from 2011 to 2013. Revenue from advanced building products and technologies increased 11 percent in 2012 and 12 percent in 2013, for two-year growth of 24 percent.
The full Advanced Energy Now 2014 Market Report is available for download at www.AEE.net. For a graphic presentation of the advanced energy story, and more detail on the seven industry segments and 41 subsegments that constitute advanced energy, go to www.advancedenergynow.net. For more detail on advanced energy, as well as GDP and federal, state, and tax impacts of 2011 and 2012 advanced energy market revenue, see AEE's landmarkEconomic Impacts of Advanced Energy, published last year.
"Every year, Navigant Research produces dozens of in-depth reports and provides custom research services for leading utilities and companies on the most important trends in clean technology," said Dexter Gauntlett, senior research analyst for Navigant Research. "This advanced energy report brings to bear the knowledge of all our experts to provide the most complete picture possible of this dynamic market. Our analysis shows that advanced energy is a significant sector of the economy in the United States and the world."
"As a nation, we need to seize on the opportunity that advanced energy provides to become more prosperous and energy independent," added AEE's Graham Richard. "That means continued business investment, R&D to spur innovations, and smart government policies at the federal and state level to drive continued growth and job creation."
About Advanced Energy Economy
Advanced Energy Economy is a national association of businesses and business leaders who are making the global energy system more secure, clean and affordable. Advanced energy encompasses a broad range of products and services that constitute the best available technologies for meeting energy needs today and tomorrow. AEE's mission is to transform public policy to enable rapid growth of advanced energy businesses. AEE and its State Partner organizations, which are active in 21 states across the country, represent roughly 1,000 organizations in the advanced energy industry. Visit Advanced Energy Economy online at: www.aee.net.
About Navigant Research
Navigant Research, the dedicated research arm of Navigant, provides market research and benchmarking services for rapidly changing and often highly regulated industries. In the energy sector, Navigant Research focuses on in-depth analysis and reporting about global clean technology markets. The team's research methodology combines supply-side industry analysis, end-user primary research and demand assessment, and deep examination of technology trends to provide a comprehensive view of the Smart Energy, Smart Utilities, Smart Transportation, and Smart Buildings sectors. Additional information about Navigant Research can be found at www.navigantresearch.com.
---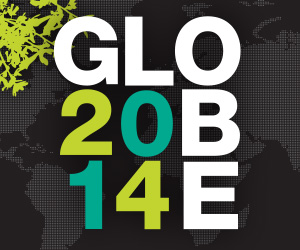 Energy is an issue that touches every person on the planet. Yet the global energy sector is undergoing a profound transformation. New technologies and new sources of energy are coming online; new players are reshaping the global energy market; millions of dollars are being invested in new transportation and processing facilities; and the search for more efficient and less carbon-intensive energy solutions are reverberating throughout many sectors. At GLOBE 2014 a number of conference sessions look at the various dimensions of the changing energy landscape and their potential impacts on the larger global economy. Check out GLOBE 2014 here
---