GLOBE-Net, August 19, 2014 – A new update from the Economist Intelligence Unit's annual "liveability index," places eight of the ten most comfortable cities in which to live in Australia, Canada or New Zealand.
Vancouver (see above – was the most liveable city surveyed until 2011) lies in third place, followed by Toronto and Calgary in fourth and fifth place in that order in the top ten listing.
The index takes into account 30 factors related to safety, healthcare, educational resources, infrastructure and environment and rated 140 cities worldwide.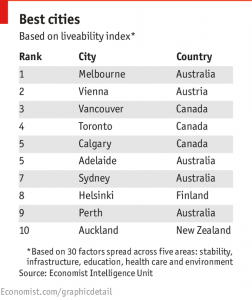 Over the past five years, it notes urban life has deteriorated somewhat: liveability has declined in 51 places and improved in only 31 places, highlighting the fact that the last five years have been characterized by heightened unrest in the wake of the global economic crisis, which has undermined many of the developmental gains that cities may have experienced through public policy and investment.
The index average has dropped 0.7 percentage points (skewed by cities in conflict areas where survival, rather than living well, is the priority).
The top cities have not changed much over time. The EIU notes that they "tend to be mid-sized cities in wealthier countries with a relatively low population density."
Victims of their own success
Notes the EIU, Global business centres tend to be victims of their own success. "The "big city buzz" that they enjoy can overstretch infrastructure and cause higher crime rates. New York, London, Paris and Tokyo are all prestigious hubs with a wealth of recreational activity, but all suffer from higher levels of crime, congestion and public transport problems than would be deemed comfortable."
The EIU report notes "those of us in London, San Francisco and Shanghai must endure the rat-race, and dream of dwelling amid Viennese coffee houses or Vancouver's sailing and skiing."
More information on the EIU 2014 Ranking of Liveability is available here