How the Tool Works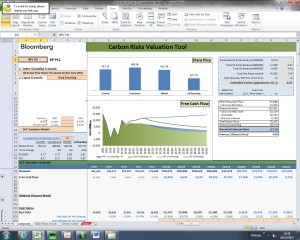 At its core, quantifying the impact of climate-related developments and policies on the value of fossil fuel companies is an exercise in evaluating the effects of falling prices. That's because reining in carbon consumption—whether through improved vehicle fuel efficiency, carbon emission limits or some sort of carbon tax—inevitably lowers demand for fossil fuels. All things being equal, reducing demand for something in a market causes the price to fall. Other developments, such as sharply lower demand from China, would also substantially lower future energy prices.
Investors interested in weighing the impact of climate change on fossil fuel companies will therefore want to know which companies could still make money on their reserves if the selling price for oil, coal and natural gas fell substantially—and permanently.
"If you've got mostly reserves that are very cheap to get out of the ground, then you're still going to be producing if the oil price falls," said Mackenzie of the Scottish Widows fund. "For a company that sees Canadian tar sands as its future and is increasing the share of production it gets from the tar sands, which is quite an expensive resource, its cost of production is going to go up and up, and it will be at a higher risk for stranded assets."
Bloomberg's carbon assessment tool measures the relative financial strength of the top oil, coal and natural gas companies using pre-built price scenarios as well as a series of assumptions that can be adjusted for a more tailored analysis. It took about six months to develop and was launched without fanfare on Nov. 26.
A white paper that accompanied the tool's release describes how it could be used to evaluate the effect on oil companies under five scenarios: A five percent annual decline in oil prices from 2020; oil selling for $50 a barrel starting in 2020; oil selling for $25 a barrel starting in 2030; loss of earnings because of "prompt decarbonization"; and loss of earnings because of "last-ditch decarbonization."
To illustrate how the tool works, Bloomberg used it to assess how nine of the world's largest oil companies would fare under each of the five scenarios. It found that the $50 oil price scenario had the most damaging effect on the companies' stock prices, causing them to fall an average of 58 percent.  
While the Bloomberg tool will raise the visibility of the stranded carbon assets issue within the influential financial community, it is just the latest in a string of recent initiatives that have given substantial momentum to the debate. The issue grew out of a landmark 2009 scientific paper that concluded that at the current rate of fossil fuel use, dangerous warming could hit the globe in as few as 11 years.
Since then, several Wall Street analysts have broached the subject in reports, and the University of Oxford's Smith School of Enterprise and the Environment launched a Stranded Asset Programme that delved into stranded fossil fuel assets and the related divestment campaign.
In October, a group of 70 institutional investors representing about $3 trillion in assets sent letters to 45 energy companies asking them to examine and disclose what the financial fallout would be if climate policies or market factors prevented them from selling all of their fossil fuel reserves.
The concept of stranded and unburnable carbon resources recently gained a key endorsement from the United Nations Intergovernmental Panel on Climate Change, or IPCC, the world's largest scientific body on global warming. The latest IPCC report embraced the view that existing reserves of fossil fuels contain more carbon than what can be burned without exceeding 2 degrees of warming. And last month, the head of the UN Climate Secretariat told the global coal industry that it would have to leave most of the world's coal reserves in the ground if we are to avoid dangerous global warming.
"At a high level, there's a growing recognition that there are real financial risks there," said Salmon, the Ceres senior manager. "We're beginning to see what you might call a patchwork of policies, technologies and market conditions that are raising questions about the future of the fossil fuel industries."
Republished with permission of InsideClimate News, a non-profit, non-partisan news organization that covers energy and climate change—plus the territory in between where law, policy and public opinion are shaped.
Learn more: Read Bloomberg's New Energy Finance White Paper
---

What's Up With the Carbon Markets will be a major issue discussed at GLOBE 2014 taking place March 26-28, 2014 in Vancouver Canada, where practical solutions and innovative emission-reducing technologies will be on display. Check here for more information.
---