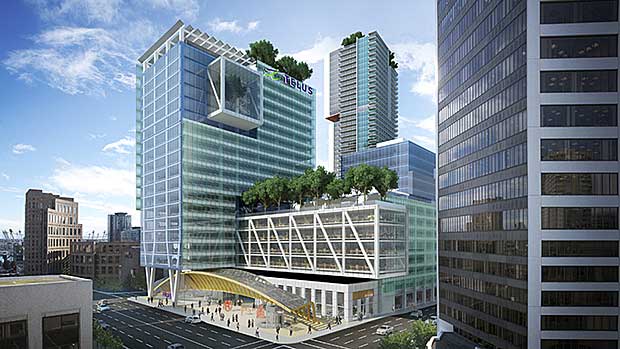 GLOBE-Net, February 11, 2015 – Earlier this year, Corporate Knights released its much anticipated 2015 Global 100 Most Sustainable Corporations in the World in Davos, Switzerland.
The United States, with 20 companies on the list, had its best showing in the 11 year history of the Global 100 ranking, including Biogen, a Massachusetts-based biotechnology firm that finished second last year.
Canada had 12 companies on the list, not a bad showing considering the breadth of competition from other larger economies and the size of some of the competing corporate giants.
The iconic Canadian company Tim Hortons topped the Canadian ranking, placing 11th on the global list, followed by Teck Resources in 29th place, and TELUS in 37th.
Other Canadian corporations in the top 100 listing included: Bombardier (57), Enbridge (64), Sun Life Financial (67), Toronto-Dominion Bank (78), Celestica (85), Bank of Montreal (88), Encana (90), Suncor Energy (93) and Intact Financial (98).
One standout in this group was telecommunications leader TELUS Corporation. No stranger to the Global 100 – this is the fifth time TELUS has been included on the list of top corporate citizens – the company rose from 70th last year to 37th place in 2015.
Significantly, TELUS is the only North American telecom company in this year's list, joined only by Vivendi of France, BT Group from the United Kingdom, and Singapore's StarHub.
Scoring so well compared to its international peers says a great deal about TELUS' approach to sustainability.
Global 100 companies are scored on a percent rank basis against their global industry peers on a list of twelve quantitative key performance indicators that run the gamut from energy and water use, to employee compensation and corporate tax strategy.
Because the indicators are quantitative and clearly-defined, the results of the Global 100 are objective and replicable. In this regard, the Global 100 follows a rules-based methodology more akin to a financial index than many other "sustainability" indices.
"Embracing sustainability as a way of doing business is at the heart of everything we do at TELUS," notes Andrea Goertz, Chief Sustainability and Communications Officer at TELUS.
"It's a holistic mindset that guides each business decision," she adds.
As Chief Sustainability Officer, her mandate is to advance TELUS' balanced approach to business by focusing on the social, economic and environmental impact of the numerous programs she oversees.
That mindset is clearly reflected in the numbers that lie behind the 12 key performance indicators (KPIs) used by Corporate Knights in ranking TELUS and the other potential candidates for the top 100 listing.
These key indicators include: Energy productivity, Carbon productivity, Water productivity, Waste productivity, Innovation capacity, Percentage tax paid, CEO to average worker pay, Pension fund status, Safety performance, Employee turnover, Leadership diversity, and Clean capitalism pay link, which is the link between sustainability performance and the remuneration of senior executives.
"Work Styles is a key factor in the sustainability ethic that permeates the company," says Geoff Pegg a Director of Sustainability at TELUS. "Our team is empowered to work from wherever they are most productive," he notes.
"This approach is quickly becoming the global standard for employers seeking to empower a mobile workforce and achieve greater productivity and engagement while reducing real estate and business travel costs and greenhouse gas emissions."
Other factors affecting the TELUS ranking noted by Pegg include:
A growing portfolio of Leadership in Energy and Environmental Design (LEED) workplaces and Internet Data Centres using advanced environmental technologies to reduce energy consumption by up to 80 per cent;
More than 100 energy reduction initiatives that are part of the company's Energy Management program;
A commitment to transparent financial, corporate governance and sustainable development disclosure through the Annual Report and Corporate Social Responsibility (CSR) Report ; and
Procurement and Supply Chain Management efforts that focus on sustainability, including performing risk assessments of top strategic suppliers, a supplier code of conduct, and embedding sustainability considerations into Request for Proposals processes.
"We demonstrate our commitment to sustainability across the entire company," says Andrea Goertz. "This commitment guides each business decision, customer connection, team member interaction and community outreach effort."
"Our goal is to make the future friendly by making the world a better place not only for our children, but for generations to come," she writes in the company's most recent Corporate Sustainability Report.
Statements like that may seem like green padding, were it not for the incredible array of detailed performance measurements – many of which are third party assured – that permeate the 160 page report.
So too is the rigorous facts-based assessment that goes into the Corporate Knights evaluation process, a testament to the accuracy of the statement by Andrea Goertz, who in addition to her many other achievements was a speaker at GLOBE 2014 last year.
One of the factors reinforcing the sustainability ethic at TELUS is the deliberate encouragement given to employees to treat the company like it's their own, and the empowerment to foster a spirit of 'intrapreneurship.'
Chitra Anand, head of Public Relations and Communications for Microsoft Canada, notes in a recent Globe and Mail article that at TELUS, the culture of intrapreneurship is fostered by creating a physical environment that is conducive to it, such as open work spaces that promote transparency and cross-team awareness and collaboration.
Difficult as it may seem for a company with more than 28,000 employees in Canada to act like a startup, TELUS makes it work through a human resources strategy designed to support team building and creating a culture that delivers on the future-friendly promise noted by Andrea Goertz.
This strategy has enabled a steady incline of TELUS' employee engagement for five consecutive years and it now sits at a global high of 85 per cent. Key objectives of this strategy are attracting and retaining the best employees, investing in their professional growth, developing a future-friendly workplace, reinforcing a personal connection with TELUS, recognizing business productivity and success, and communicating in an effective and transparent manner.
Later this year TELUS will move more than 1,000 of its 6,600 Metro Vancouver employees into the $750 million, LEED Platinum TELUS Garden headquarters. This one-million square foot project will radically transform an aging area of downtown Vancouver into one of the most technologically- and environmentally-advanced sites in the world.
It will create half a million square feet of much-needed new office space available for multiple tenants and 500 new residential units, many of which have already been purchased by TELUS employees.
The building, like the corporation behind it, is setting new standards for environmental sustainability and will be followed by another similar LEED Platinum development in Calgary, AB coined TELUS Sky that is scheduled for completion by 2017.
These projects will stand as further achievements by a company that has clearly made sustainability the basis of its efforts to build a future friendly world.
---
Related News
Telus Corp. reports fourth-quarter profit and revenue up from year ago