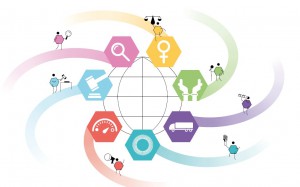 GLOBE-Net, August 20, 2014 – The World Economic Forum (WEF) has released a short but informative White Paper on business sustainability to deepen business understanding of the breath and importance of sustainability for the future of enterprise.
The WEF argues that in the 21st century, business sustainability needs to be better understood by corporate leaders in terms of the environmental responsibility, economic development, human rights, women's empowerment, and rule of law.
Smart businesses are incorporating these broader principles of sustainability into their business decisions, and developing practical standards and metrics to help apply these principles in practice, it states.
The White Paper was prepare by members of the WEF Network of Global Agenda Councils, a unique, global community of over 1,500 premier thought leaders who are the foremost experts in their fields of academia, business, government, international organizations and society.
Over 900 of the most relevant experts from the World Economic Forum's Network of Global Agenda Councils will assemble in Dubai, United Arab Emirates in November 2014 for the seventh Summit on the Global Agenda.
Business sustainability measures work to maximize opportunity and minimize the negative impact their core businesses have on the environment, the community and the economy in places where they operate, states the White Paper.
It cites efforts by businesses that are working with their supply chains to balance these three aspects. They do so by adopting transparent sourcing and distribution strategies that are informed by consultation with local communities, are environmentally sound, and at the same time enhance business growth.
In a series of short statements prepared by seven Global Agenda Councils, the White Paper sets out an integrated view of business sustainability strategies that will help advance a post-2015 development agenda.
These statements can serve as a resource for businesses, governments, civil society and other actors seeking to incorporate understandings of sustainability into their business decisions and models.
Changhua Wu, Director, Greater China, The Climate Group on behalf of the Global Agenda Council on Climate Change notes that "what is required to address climate change is an integrated approach consisting of close public-private partnership, and clear and certain policy direction to drive technology innovation and capital flows and scale up the markets for clean technologies, products and services worldwide."
Laura D'Andrea Tyson, Professor, Business Administration and Economics, Haas School of Business, University of California, Berkeley speaking on behalf of the Global Agenda Council on Women's Empowerment, addresses an issue not well understood by many business leaders that "women's empowerment is a substantial and proven driver of GDP growth and plays an important role in enhancing the well-being of families and communities in economies throughout the world from all development levels."
"When women are fully engaged, provided with resources and given power in decision-making, they are important actors in promoting best practices and developing sustainable growth and clean environments," she says.
Human Rights is another contentious issue addressed in the White paper. Michael Posner, Professor at the NYU Stern School of Business writing on behalf of the Global Agenda Council on Human Rights noted that Companies that incorporate human rights elements into their business models are in a stronger position to meet the challenges they face while doing business in an increasingly interconnected and transparent world.
The full suite of WEF business sustainability insights can be found here.