GLOBE-Net, January 12, 2015 – What if, at the onset of this century, the boards of America's big banks had recruited CEOs for their CSR strengths?
We know now that the 2008 financial meltdown, which cost the global economy trillions of dollars in jobs, homes and lost productivity, could have been avoided with the right leadership at the helm.
According to Ivey Business School research at Western University (PDF), irresponsibility to both shareholders and society, as well as a lack of transparency, integrity and respect, were among the leadership shortcomings that contributed to excessive leverage in financial markets and the subsequent meltdown.
In hindsight, it has become obvious that boards, and their HR advisors, do need CSR criteria to guide CEO search and succession planning.
A new breed of corporate leaders
With global change comes business change and the need for a new breed of corporate leaders. As forward-thinking businesses contemplate 2050 and the idea of 9 billion people living sustainably within planetary boundaries, they see both risks and opportunities.
Already shareholders, consumers, employees, governments and host communities want businesses to manage their social and environmental impacts effectively, and to chart a sustainable course for society. If companies want to succeed and thrive in the 21st century they must enhance their corporate social responsibility and sustainability performance.
To steward a company through this changing terrain — and capitalize on the business benefits of doing so — companies will need CSR-competent leaders at the helm who can:
– Attract and engage employees. New millennial employees prefer to work for leaders they admire in companies that exemplify good CSR practices.
– Build trust. A CEO who is a capable and authentic spokesperson for the company's social brand will engender market and community trust.
– Make better decisions. CSR-competent CEOs have more open-minded, holistic, long-term and shared-value perspectives, which foster more effective decision-making.
---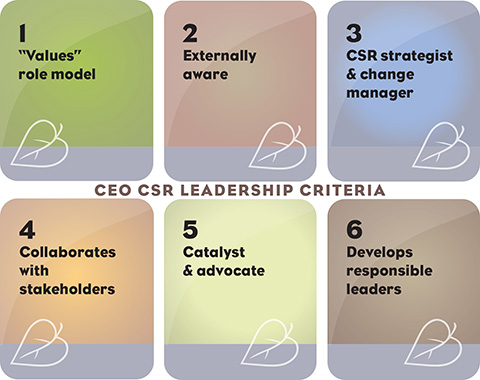 ---
Enlightened leadership
Enlightened leadership a quality of the Transformational Company (PDF) — a new CSR standard for businesses developed by Canadian Business for Social Responsibility. This new breed of CEO runs a new breed of company. Good examples are Paul Polman, CEO at Unilever, and Karl-Johan Persson, CEO at H&M.
To develop and attract leaders with CSR values and capabilities, board HR and recruitment committees need to update CEO position profiles and succession plans with new CSR criteria.
While more boards realize the importance of effective CSR leadership, they lack guidance on the qualities required for this new company executive.
Top six characteristics of the new CSR-capable CEO
Recently I published a guide to address this gap, Recruiting CSR-Competent Leaders: Six Criteria for CEO Succession Planning and Recruitment (PDF). It draws from global insights to identify the top attributes that CEOs will need in order to create and protect shareholder value through the pursuit of sustainability and corporate social responsibility.
The top six characteristics of the new CSR-capable CEO are "values" role model, CSR strategist and change manager, catalyst and advocate, externally aware, who collaborates with stakeholders, and develops responsible leaders.
Organizations that build these attributes into leadership development, succession planning and recruitment will be better prepared for the changing business context. While the CEOs of the past engaged in philanthropic pursuits and viewed CSR as a distraction from their core purpose, the CEOs of the future will see its importance to create and protect value.
Now is the time
Now is the time to tune up search and succession-planning models. This is an emerging board governance topic that will continue to grow in significance in the years ahead. With CEO turnover about 16 percent and retirements a top driver of CEO renewal, it becomes even more important for boards to enhance their knowledge of these critical competencies and embed them in their recruitment and succession criteria.