GLOBE-Net, November 5, 2014 – Dual Citizen LLC, a private U.S.-based consultancy, has released its 2014 edition of the Global Green Economy Index™ (GGEI).
The Global Green Economy Index™ (GGEI) measures both the green economic performance of 60 countries and how experts assess that performance.
The GGEI performance index uses quantitative and qualitative indicators to measure how well each country performs on four key dimensions: leadership & climate change, efficiency sectors, markets & investment and environment & natural capital.  Then, the GGEI perception survey collects assessments from expert practitioners on these same four dimensions.
The GGEI was the first index of its kind, launched in 2010, and today is widely referenced and utilized by policy makers, international organizations, civil society and the private sector.  Like many indices, the GGEI is a communications tool that provides nations with a relative measure of their green economic performance and how expert practitioners judge it.  Both components of the GGEI are critical to better understanding how countries can leverage data analytics and strategic communications to advance their standing in the global green economy.
Who are the top Green Economy countries?
Germany (perception) and Sweden (performance) top the 2014 GGEI, confirming a trend observed in prior editions of strong results by Germany and the Nordic states. Besides performing well on both the economic and environmental areas of the GGEI, these nations display consistent green leadership and receive global recognition for it;
Covered for the first time in this edition, Costa Rica performs extremely well, ranking third on the GGEI performance measure behind Sweden and Norway and receiving strong recognition on the perception survey, an impressive result for such a small country;
Like in 2012, Copenhagen is the top green city as ranked by our survey of global experts, reinforcing the continued strength of the Danish green brand. Tracked for the first time this year, Vancouver and Singapore also rank in the top 10 of green cities.

Emerging Trends
Many of the fastest growing economies in the world rank poorly on the GGEI performance measure, highlighting an urgent need to reorient their economies to greener growth pathways. Regionally, these countries are mostly in Africa (Ghana), the Gulf (Qatar, United Arab Emirates), and Asia (Cambodia, China, Thailand, Vietnam);
There are concerning results related to more developed countries as well – notably Australia, Japan, the Netherlands and the United States – where perceptions of their green economic performance dramatically exceed their actual performance on the GGEI. These countries appear to receive more credit than they deserve, an information gap that requires further exploration;
Despite its leadership founding the Global Green Growth Institute (GGGI), South Korea continues not to register as a green country brand on the survey and performs poorly, ranked 39th out of 60 on this year's GGEI. Despite better perception results, Japan also performs poorly on the 2014 GGEI, ranked 44th out of 60;
While the United Kingdom performs adequately in most areas of the GGEI, it doesn't excel on any one topic, possibly due to inconsistent political rhetoric and policy related to green economy there. While gradually improving in each successive GGEI edition, the UK still lags behind its northern European and Nordic competitors;
Five European nations – Austria, Iceland, Ireland, Portugal and Spain – reveal performance scores that exceed their perception ones significantly – signaling an urgent need for better strategic communications and information exchange of their green merits and associated investment opportunities;
The GGEI results reveal a similar observation for a variety of non-European states – including Ethiopia, Mauritius, Rwanda in Africa and Colombia, Chile and Peru in Latin America – again suggesting a need for these states to better position their green economies on the international stage.
Where does Canada stand?
According to the report's authors, Canada's results remain difficult to decipher, something also found in earlier editions of the GGEI. Canada ranks 12th on the Perception Index with a score of 63.0 (Germany  ranks #1 with a score of 93.6). But Canada ranks only 28th on the Performance Index with a score of 49.6 (Sweden ranks #1 with a score of 68.1).
---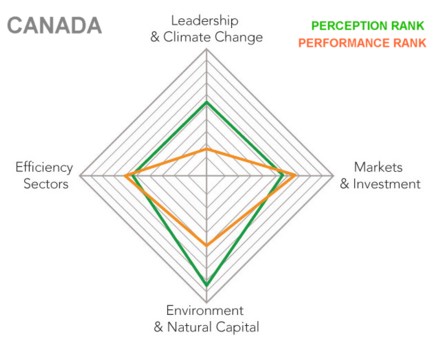 ---
On the one hand, Canada's green economy is quite strong, both in terms of perception where it ranks near the top 10 overall and performance, where Canada does very well on the Efficiency Sectors and Markets & Investment dimensions.
But Canada's performance score near the bottom of the Leadership & Climate Change dimension drags down its overall result significantly. The country's head of state, media coverage, behavior in international forums and climate change performance are all extremely low as measured by the GGEI.
While these areas obviously need improvement from a performance point of view, the survey respondents don't appear to take much notice, as Canada still ranks near the top 20 of the GGEI perception survey on Leadership & Climate Change.
The full report and the survey methodology are available here.
---