GLOBE-Net, November 4, 2013 —  Environment Minister Leona Aglukkaq today released the 2013-2016 Federal Sustainable Development Strategy.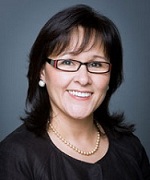 "Our Government is taking action on environmental issues that matter most to Canadians," said Minister Aglukkaq (pictured left). "Canada's second Federal Sustainable Development Strategy builds on the significant progress already achieved and continues to provide Canadians with the information they need to monitor the Government's record and results."
The 2013-2016 Strategy is an update and expansion of the first strategy reflecting the government's priorities and decisions taken since 2010, and contains refined goals and targets. Public consultations with Canadians added to the plan.
The report is structured to address four themes with corresponding goals and targets.
Theme 1 addresses climate change and air quality.
The report notes that while the Canadian economy grew by 8.4% between 2005 and 2011, GHG emissions decreased by 36 mega-tonnes, or 4.8%, in that same period. Significantly, the report concludes that this indicates that Canadian GHG emissions are beginning to become decoupled from economic growth. Still more effort is needed to reach the Canadian GHG reduction target of 17% below 2005 standards by 2020.
Goal 1 is about mitigating the effects of climate change, reducing greenhouse gas emission levels and adapting to unavoidable impacts.
Goal 2 is to minimize the threats to air quality so that the air Canadians breathe is clean and supports healthy ecosystems.
Several targets support the achievements of these goals of climate change mitigation, climate change adaptation and reduction of many outdoor air and indoor air pollutants while at the same time benefiting social and economic aspects directly affected like human health and the diversification of energy sources.
Theme II focuses on maintaining water quality and availability.
The report states that water quality in Canada is generally good, but that the 2012 FSDS Progress Report found that some of Canada's key aquatic ecosystems are under stress due to human activities. These include the Great Lakes, Lake Winnipeg, Lake Simcoe, south-eastern Georgian Bay and the St. Lawrence River.
Goal 3 is about safe and secure water quality and water quantity or availability. Targets include on-reserve First Nations water and wastewater systems and drinking water quality, the protection and restoration of aquatic ecosystems, and the management of marine pollution. Again there are benefits to human health and economic benefits through improved environmental quality and opportunities for recreation and tourism.
Theme III is conserving Canada's natural landscape and marine areas, protection of wild species, and protecting Canadians from exposure to harmful substances.
Goals 4 and 5 – one aimed at conserving and restoring ecosystems, wildlife and habitat, and protecting Canadians (supported by targets that examine species at risk, migratory birds, alien invasive species and chemicals management) and one that supports the sustainable use of biological resources (with targets that promote sustainable fisheries, aquaculture, forest management and agriculture). There are implementation strategies related to environmental disasters, incidents and emergencies that could be prevented or their impacts mitigated.
There are health benefits of course. Economic benefits are derived from the goal of ensuring the sustainability of four vital Canadian industries – fisheries, aquaculture, forestry and agriculture.
Theme IV is "Shrinking the Environmental Footprint – Beginning with Government" or the greening of government operations.
Here the report addresses the extensive operations of the Canadian federal government with its more than 28,000 buildings owned or leased, more than 16,000 on-road vehicles, and upwards of 200,000 employees.
The three-goal structure embraces: 6. Greenhouse Gas Emission (GHG) and Energy, 7. Asset and Waste Management, and 8. Water Management. The targets also include the greening of the supply chain.
Goal 6 is to reduce the carbon footprint and energy consumption of federal operations thereby reducing GHG emissions. This is where the government sets a target to match the national target of reducing GHGs from its buildings and fleets by 17% below 2005 levels by 2020.
Goal 7 targets the reduction of generated waste and the minimization of environmental impacts of assets throughout their life cycle.
Goal 8 aims to improve water management in federal operations.
This goal applies to sustainable water management within federal operations and has a target of April 1, 2014 to improve water management within its real property portfolio and will implement by March 31, 2015 the conservation of potable water, manage storm water run-off, improve the metering of water utility usage for existing Crown-owned buildings and manage the water usage in new projects.
While the four priority themes of the first FSDS are carried over into the second cycle of the Federal Sustainable Development Strategy, there are three key improvements that have been made:
1. An integrated, "whole of government picture of actions and results to achieve environmental sustainability";
2.  A corresponding link between "sustainable development planning and reporting and the government's core planning and reporting processes"; and
3. Effective measurement, monitoring and reporting to track and report on progress of the FSDS 2013-2016 to Canadians.
With new targets, in addition to several improved objectives, the Strategy also reflects collaboration and partnerships, recognizing the contributions of, and work done with, various levels of government and other organizations.
Public and stakeholder input played an important role in shaping the 2013-2016 Strategy, based on a 120-day public consultation period that allowed Canadians to comment on the Government's sustainable development priorities and approach.
 Learn more: review the 2013-2016 Federal Sustainable Development Strategy  And Synthesis Report: Public Consultations on the Draft 2013-2016 Federal Sustainable Development Strategy
---

Building Resilient Cities and the Search for Clean and Abundant Water are a major themes to be discussed at GLOBE 2014, taking place in Vancouver Canada, March 26-28, 2014. Reserve your place now. Check here for more details.
---