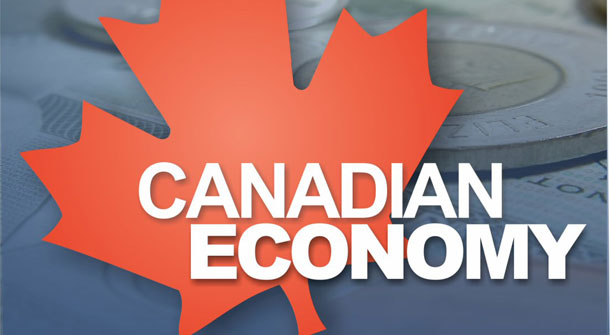 "The OECD Economic Survey of Canada 2014 acknowledges the strength of the Canadian economy and lays out the prospect of a stronger, fairer, greener growth, so long as the correct monetary, fiscal, structural and financial policies are maintained."
GLOBE-Net, June 11, 2014 – Canada's economic growth has been fairly solid and in any case higher than in most other OECD countries since the recession, according to the OECD's Economic Survey of Canada 2014 report released today.
But meeting international targets for reducing greenhouse gas (GHG) emissions remains one of several challenges Canada will face in the years ahead. Canada also faces challenges in finding sufficient skilled workers in certain fields and regions, particularly in the energy sector, which could limit growth going forward.
The comprehensive assessment is generally favourable of Canada's fiscal and monetary policies, noting that our monetary policy remains highly accommodating, supporting activity and probably pushing up house prices.
It says the economic slack should be absorbed by mid-2015, contributing to an expected increase in underlying consumer price inflation to near 2%, the Bank of Canada's target-range midpoint.
Fiscal sustainability also continues to improve, notes the report. The federal government has made considerable progress in reducing its budget deficit and is on track to achieve its objective of eliminating the deficit by 2015.
Provincial governments have made less progress, it notes, as they have more modest consolidation plans and will have slowly rising debt-to-GDP ratios over the next few years. In the longer term rising health-care costs pose the most serious threat to provincial fiscal sustainability.
Sustainability issues loom large
Managing non-renewable resources in an era of high commodity prices has created wide regional economic disparities, says the report, noting that much of the public revenues from non-renewable resource extraction is being spent on current government programs, rather than being saved for the benefit of future generations.
Incomes have risen in resource-rich provinces, but the resulting currency appreciation has placed pressures on manufacturing. Federal equalization transfers only partially offset inter-provincial disparities in fiscal capacity.
Resource development also has created business and employment opportunities for many Aboriginal communities, but some groups feel that they have not benefited adequately.
---
"We are on a collision course with nature. We cannot sustain long-term growth in our economies if we do not protect and preserve our environment. In Canada, the national government projects that by 2020, 'business as usual' will see greenhouse gas emissions fall by only 0.4%  below 2005 levels, far short of Canada's Copenhagen pledge of 17% . Intensified exploitation of oil-sands in Alberta is the main reason."  OECD Secretary-General Angel Gurría
---
Environmental sustainability and meeting international targets for reducing greenhouse gas (GHG) emissions remain challenges, says the OECD. Oil-sands production represents the fastest growing source of emissions. The federal government has taken a sector-specific regulatory approach but has not yet released regulations for the oil and gas sector.
While Alberta put a price on emissions in 2007, notes the report, it has been too low to induce significant investments in abatement technologies. Furthermore, mining companies have failed to meet targets set by the provincial regulator for treating waste.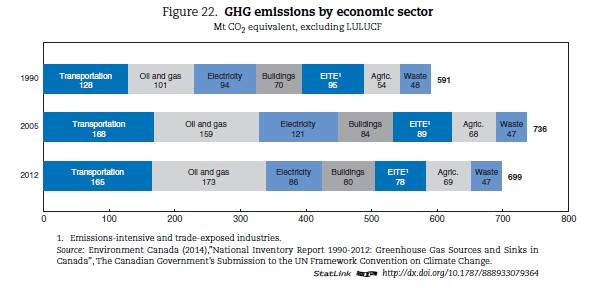 ---
Much greater efforts are needed to address the environmental costs of resource extraction, says the report, noting that Canada ranks 7th among OECD countries for greenhouse gas (GHG) emissions, both per capita and per unit of GDP, though production has become more efficient since 1990.
The oil and gas sector is the largest contributor, accounting for two thirds of the total increase since 1990, with oil-sands production the fastest growing source. Technological investments have helped to reduce the emissions intensity of oil sands production by 28% from 1990 to 2012, mostly by 2004 as intensity since then has remained relatively stable with shifts towards more emissions-intensive "in situ" extraction techniques and declining reservoir quality in recent years.
Elsewhere the report commends Canada for moving forward with policies and programs to promote renewable energy and to tackle climate change directly, though it cites several provincial initiatives that are more ambitious than those of the national government.
Skills shortages 
Skills shortages in certain fields and regions could limit growth going forward. University-degree earnings premiums have increased in some professions and real earnings have risen more in the oil-rich provinces than elsewhere.
Skilled-trade vacancy rates have soared since the recession, especially in Alberta and Saskatchewan. The average apprenticeship completion rate was only 50% over 2000-11. Inconsistencies in apprenticeship training and certification requirements across the country impede the inter-provincial mobility of apprentices, says the report. Other factors, including Employment Insurance and the functioning of dispute resolution under the Agreement on Internal Trade, may also impede internal mobility.
Key recommendations 
Fiscal sustainability 
Continue to implement reforms to slow growth in provincial health-care costs, including patient- or activity-based funding for hospitals, increasing the share of ambulatory care and consolidating input purchases with other provinces.
Establish a single independent budget office for the provinces.
Housing issues and monetary policy

Tighten mortgage insurance to cover only part of lenders' losses in case of mortgage default. Continue to increase the private-sector share of the market by gradually reducing the cap on the Canada Mortgage and Housing Corporation's (CMHC) insured mortgages.
At the municipal level, expand low-cost rental housing supply and densification by adjusting zoning regulations to promote more multi-unit dwellings.
Increase the policy rate as underlying inflation pressures rise to stabilize the inflation rate at the 2% target-range midpoint.
Skills shortages 
Build on announced new measures to provide better information on expected returns to post-secondary education to improve students' study choices.
Strengthen the single market for labour by making the Agreement on Internal Trade Dispute Resolution Panel more accessible and expediting its procedures. In addition, continue to work with provinces and territories to harmonize training and certification requirements of all apprenticeship programs across the country to increase completion rates and inter-provincial mobility for apprentices.
If recent Employment-Insurance reforms do not clearly cut repeat use, adopt experience-rated premiums and enhance opportunities for seasonal workers to retrain.
Managing non-renewable resources

Factor in provincial differences in demographics when calculating federal transfers to provinces.
At the provincial level, increase taxes from non-renewable resource development, and raise the share of revenues saved.
Provide clear guidelines for resource companies on how to engage with affected Aboriginal groups so that projects bring long-term benefits to these communities.
Environmental sustainability 
Continue expanding the use of market instruments to price carbon emissions. Work with provinces to ensure coherence of provincial climate-change strategies with international commitments.
Ensure that regulatory objectives for treating waste from oil-sands projects are met.
An overview with the main conclusions of the Economic Survey of Canada is accessible in pdf format on the OECD's web site.