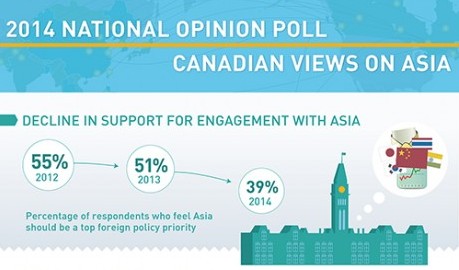 Vancouver, BC – June 10, 2014 – According to the 2014 National Opinion Poll (NOP) of Canadian Views on Asia released today by the Asia Pacific Foundation of Canada (APF Canada), Canadian support for engagement with Asia is declining, despite increased trade and investment with the region. As a result, Canada may be at risk of losing out on opportunities in Asia that other western industrialized countries are actively pursuing.
"This year's results show a drop both in Canadians' perceived economic importance of Asia, as well as in their support for further engagement with the region," said APF Canada President and CEO Yuen Pau Woo, "As economic and political power shifts to Asia, Canada must deepen and broaden ties with Asian countries, or risk a decline in our standard of living and our influence in the world."
"All Canadians have a role to play in forging a national consensus on the importance of Asia for the country," said Mr. Woo, "Political leaders need to work with the public to build support for stronger ties with Asia. Businesses need to invest in Asia strategies. And our educational institutions should place greater emphasis on Asia skills, knowledge, and experience to prepare the next generation of Canadians for a more Asia-centric world."
---
China – Our Shared Future 
was a key part of GLOBE 2014

. 

China's new leaders have declared ecological progress as a top national priority. Billions will be spent on measures to reduce energy consumption and to lower the country's carbon intensity. 

Read More
---
The NOP is an annual poll conducted by APF Canada on Canadian opinion and attitudes towards Canada's engagement with Asia. In 2014, the number of Canadians who believed that Asia should be Canada's top foreign policy priority (37%) dropped 14 points from 2013 (51%). Similarly, the 2014 poll found that just under half of Canadians (47%) believe that their government should do more to facilitate trade and investment for Canadian companies to visit Asia – an 11 point drop from the solid majority (58%) who held this view in 2013.
[stextbox id="custom" float="true" align="right" width="300″ bcolor="d2d0d1″ bgcolor="dbdbdb" image="null"] The results found that Canadian support for international engagement is driven less by concerns over economic opportunities and more by Canadians' feeling of political comfort and familiarity with other countries.[/stextbox]
However, not all of the poll results indicate decline in Canadian attitudes towards Asia long-term. For example, a third of Canadians (33%) said that Canada was more a part of the Asia Pacific region than it was a decade ago.
This year's poll was expanded from previous years in an effort to uncover what is driving Canadian views on Asia. The results found that Canadian support for international engagement is driven less by concerns over economic opportunities and more by Canadians' feeling of political comfort and familiarity with other countries.
For example, 26% of Canadians view Australia as very important to Canadian prosperity, even though it is not a top-ten trading partner. Only half as many Canadians (13%) view South Korea as important to Canada's prosperity despite it being Canada's seventh largest trading partner. Similarly, only 41% of Canadians supported a free trade agreement with South Korea, while 69% support one with Australia and 67% support one with the EU.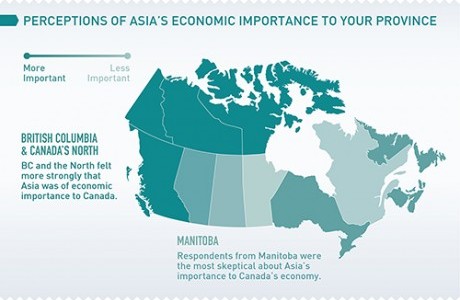 "Our poll suggests that Canadians are the most confident in supporting engagement with countries with which they share similar history, laws, and values," said Eva Busza, Vice-President, Research, "however, APF Canada believes that given the tremendous opportunities arising out of the Asia-Pacific region, Canadians should be increasingly looking to build bridges to this dynamic part of the world."
---
British Columbia has the most positive feelings toward Asia, and Ontario has the most negative. British Columbians are the most likely to consider Canada to be part of the Asia Pacific region (44% compared with 22% nationally.
---
APF Canada is developing a series of programs to help Canadians explore the impact of Asia in their day-to-day lives, so that they can make informed choices about the future of Canada-Asia relations. One new project called The Asia Factor, launched last week, is a one-of-a-kind comprehensive interactive site that measures Asia's impact in each of Canada's provinces and territories, as well as in Canada as a whole. The site is fully accessible to the public at www.TheAsiaFactor.ca
To view the full poll results, click here.