December 16, 2013
New York, NY — CDP— a leading international NGO — today announced it is expanding its support for world's cities to report on their local greenhouse gas emissions and identify actionable solutions to combat climate change.
CDP offers cities, companies and investors the only global environmental disclosure system, and a three-year, $4.1 million grant from Bloomberg Philanthropies will dramatically expand and enhance the existing CDP reporting platform and associated technical support to help city governments to disclose and use the data they need to push toward more sustainable economies.
As C40 Chair, New York City Mayor Michael R. Bloomberg has deepened C40's commitment to use data and measurement to help drive city actions against climate change and track progress on reducing greenhouse gas emissions. Bloomberg Philanthropies' three-year grant will enhance this commitment and help achieve CDP-C40's joint program goals to:
Increase the number of cities worldwide that report on climate change annually;
Standardize emissions accounting by employing an effective city-vetted methodology
Enable cities to report transparent, year-on-year emissions reductions
The funding from Bloomberg Philanthropies will also enhance the capacity of the CDP Cities' data platform across three key areas to:
Build tools to help cities analyze and use data reported to CDP to drive consistent annual emissions reductions
Ease the reporting burden on cities by improving the platform's functionality, increasing the compatibility with other reporting platforms, and allowing multilingual options
Provide annual benchmarking analysis to all cities, enabling better data comparability and standardization while providing real value to reporting cities.
"Data measurement plays a critical role in sound management, but for too long it has been largely missing from the fight against climate change," said New York City Mayor and outgoing C40 Chair Michael R. Bloomberg. "Together with C40, CDP is changing that and helping cities around the world to reduce their carbon footprints. Given Bloomberg Philanthropies' own commitment to using data to measure and manage problems, and to the issue of climate change, this partnership is a perfect fit.'
---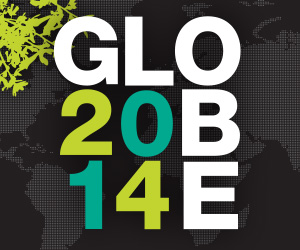 CDP is a partner of GLOBE 2014, the major international conference and trade fair event taking place in Vancouver, Canada, March 26-28, 2014.  CDP's North American President, Tom Carnac, will join forces with the Chairman of the Global Reporting Initiative, the CEO of the World Business Council on Sustainable Development, and a host of other leading companies and organizations to support transparency that leads to more competitive, efficient, and productive business operations. Building more resilient cities will also be a major theme at GLOBE 2014.
---
Paul Simpson, Chief Executive Officer of CDP says:  "This funding is recognition that forward-thinking cities can lead the way and reap the benefits. Other constituencies have much to learn. We are extremely grateful to Bloomberg Philanthropies for their generous support and shared vision for our work, particularly with C40."
Over 100 city governments worldwide—including London, New York, Tokyo, Moscow and Lagos— use CDP's platform each year to report on their greenhouse gas emissions, climate risk and actions to mitigate and adapt to climate change. In 2013, cities reported over 1 billion tonnes of GHG emissions through CDP. CDP's cities report earlier this year highlighted the benefits of climate change action, identifying annual energy savings of up to US$13 million per city as a result of environmental measures.
 The C40 Cities Climate Leadership Group (C40) has also announced several key milestones in its leadership. Effective immediately:
Rio de Janeiro Mayor Eduardo Paes begins his 2-year tenure as C40 Chair while former Chair New York City Mayor Michael R. Bloomberg assumes a new role as President of the C40 Board of Directors.
Mark Watts, a former Director of ARUP, and Climate Change and Transport adviser to the former Mayor of London and C40 founder Ken Livingstone, has been appointed the new Executive Director for the organization.
Jay Carson, C40's outgoing Executive Director, will join the organization's Board of Directors representing Bloomberg Philanthropies.
As well, Rohit Aggarwala, Special Advisor to the Chair under Mayor Bloomberg's tenure, has been asked to remain on as a consultant to both Paes and Bloomberg.
C40 Cities have taken more than 5,000 climate actions over the last five years. When fully implemented, these actions will cut greenhouse gas (GHG) emissions by 248 million tons worldwide by 2020 – the equivalent to the total GHG emissions of Argentina and Portugal combined. These actions have the potential to reduce over 1 billion tonnes by 2030, which is the equivalent of the GHG emissions of Mexico and Canada combined.
About CDP
CDP is an international, not-for-profit organization providing the only global system for companies and cities to measure, disclose, manage and share vital environmental information. CDP works with market forces, including 722 institutional investors with assets of $87 trillion, to motivate companies to disclose their impacts on the environment and natural resources and take action to reduce them. CDP now holds the world's largest collection of primary climate change, water and forest risk commodities information and puts these insights at the heart of strategic business, investment and policy decisions.  Visit www.cdp.net to find out more.
About C40
The C40 Cities Climate Leadership Group (C40) is a network of large and engaged cities from around the world committed to implementing meaningful and sustainable climate-related actions locally that will help address climate change globally. C40 was established in 2005 and expanded via a partnership in 2006 with President William J. Clinton's Climate Initiative (CCI). The current chair of the C40 is New York City Mayor Michael R. Bloomberg. To learn more about the work of C40 visit http://www.c40.org/.
About Bloomberg Philanthropies
Bloomberg Philanthropies' mission is to ensure better, longer lives for the greatest number of  people. The organization focuses on five key areas for creating lasting change: Public Health, Environment, Education, Government Innovation and the Arts. Bloomberg Philanthropies encompasses all of Michael R. Bloomberg's charitable activities, including his foundation and his personal giving. In 2012, $370 million was distributed. For more information,  visit www.bloomberg.org.