GLOBE-Net, October 19, 2014 – The Independent Power Producers Association of BC (Clean Energy BC) has released a report it commissioned from an independent British strategic advisory professional services firm that suggests smaller clean-energy plants might be a viable option to the proposed Site C dam.*
The study from London Economics International (LEI) finds the savings could come from "right-sizing and right-timing" of clean-energy projects.They would be spread over 70 years, the assumed "economic life" of the Site C dam and generating station on the Peace River in northeast BC.
---
The study was released at Clean Energy BC's annual conference in Vancouver on 16 October 2014. Two days earlierfederal government approval of the project was announced. Federal Environment Minister Leona Aglukkaq stated the environmental effects of the proposed Site C Clean Energy Project are justified. However, BC

 

Hydro must fulfil over 80 legally binding conditions throughout the life of the project. See more here.
---
LEI acknowledges that Site C has a number of strengths but its report also shows how cost-effective clean energy is a legitimate alternative, and an option the provincial government should consider.
LEI's research led LEI to the following conclusions:
"When analyzed on a consistent basis, a portfolio of clean energy resources can provide significant benefits to British Columbia relative to Site C.
"The ability to better match supply and demand over the forecast horizon with clean energy resources contributes to their advantage over Site C.
"Ultimately, the best way to determine the relative merits of the Clean Energy Portfolio is for British Columbia to conduct a new Clean Power Call, in which developers submit binding contract offers, and the costs and schedule of Site C are independently assessed."
"Given the lengthy gestation period for Site C, British Columbia could launch the market test of alternatives without a risk to future reliability.  If a properly costed and independently reviewed Site C is ultimately the winner from such a process, then British Columbia ratepayers will have confidence that the money is being well spent."
"Site C may not be needed over the near term, and is more costly than other clean energy alternatives."
"Site C represents a large, undiversified bet on a single resource to meet future supply needs.  Schedule delays could put reliability at risk in a way that relying on multiple (clean energy) resources coming online at various times would not."
"Costs for various renewable technologies have been falling over the past several years.  Bloomberg New Energy Finance found that wind turbine prices fell 29% from 2008-2012.  A similar conclusion was reached in a report by the US Department of Energy, which indicated a 20%-35% fall in wind turbine prices since late 2008."
"A Clean Energy Portfolio results in a more equitable sharing of the costs and benefits of new power projects across the province.  Some clean energy projects are located closer to load, reducing the costs of additional transmission support."
"Additionally, the Clean Energy Portfolio provides greater opportunities for a larger number of First Nations to be involved in the development of British Columbia's resources."
The study also found that, in addition to cost, clean energy has other advantages:
Geographic dispersion around the province;
Greater ability to adapt procurement to reflect evolving supply needs and technological diversity;
More plentiful and meaningful opportunities for First Nations participation;
Costs for various renewable technologies have been falling over the past several years.
"The study shows that clean energy in BC is a force to be reckoned with and recognized," said Paul Kariya, executive director of Clean Energy BC. He said Clean Energy BC wants to continue to work with the BC government and BC Hydro.
"We want to ensure that BC ratepayers fully understand the cost-effective alternatives and benefits to jobs and investment—especially to regional development—and that ratepayers receive value for money for any new power infrastructure," he added.
Clean Energy BC reports there now are 86 clean-energy projects operating in BC and the industry directly employs 1,300 British Columbians.  As well, another 21 clean-energy projects are under construction, representing a total capital expenditure value of $4.5 billion.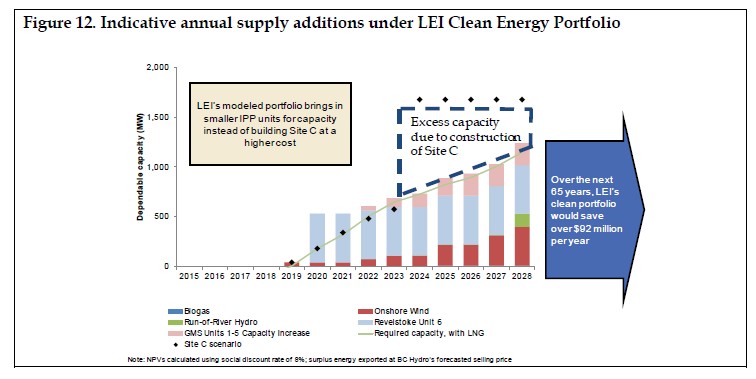 Speaking at the opening of the Clean Energy BC Conference, BC  Energy and Mines Minister Bill Bennett promised independent power producers that they will have a place in the future of the British Columbia's energy sector regardless of what decision government makes on the $8-billion Site C mega-project.
Quoted in a Vancouver Sun article he said "We're at a place in history now where we're facing absolutely huge demands for capital investment in BC Hydro," Bennett said. And while government has used BC Hydro to "foster the growth" of the industry by buying electricity from IPPs at higher prices than could be obtained elsewhere, "we can't afford to do it right now. That's just a fact of life."
The full LEI report (PDF, 49 pages) is available for download
Editor's Note: *London Economics International is a strategic consulting firm that specializes in infrastructure industries including electricity. LEI was hired by Clean Energy BC ("CEBC") to perform a review of the assumptions underlying the cost analysis of Site C in comparison to those used to evaluate clean energy projects in British Columbia, identifying areas in which adjustments are necessary to assure a consistent and cohesive approach. LEI was then asked to explore whether it was possible to assemble a portfolio of clean energy resources that matched or improved upon Site C with regards to cost, capacity, generation output, and construction time. See Page 25 of the report for details on the portfolio composition.  "While CEBC provided suggestions on material to review – and LEI ultimately accessed documents totaling several thousand pages – LEI was fully independent, and while considering CEBC's views and those of its members ultimately came to its own conclusions, which at times may differ from those of CEBC" Statement from LEI.
See also Site C Project Granted Environmental Approvals by B.C. and Federal Governments, by By Paul Cassidy, et al, McCarthy Tétrault