By Alex Kirby
LONDON, 14 January, 2015 − China, the world's most populous nation, faces one of the planet's most intractable water crises. And scientists say Beijing's strategy for resolving the problem is simply making it worse.
A team of international researchers say that water stress is only partially mitigated by China's current two-pronged approach: transferring water physically to regions that are short of it − for example, by the huge projects to transfer water from the south to the north of the country − and exporting the "virtual" water embodied in products traded domestically and internationally.
China needs more water for energy, food and industry, for its rising population, and for its attempts to end poverty.
But maintaining even current levels of provision is becoming increasingly difficult as climate change lives up to its dire reputation as a threat multiplier and endangers water and food supplies.
Full inventory
Researchers at the UK universities of East Anglia (UEA) and Leeds and other international institutions have compiled the first full inventory of physical water transfers and virtual water redistribution via trade between China's provinces. Their findings are published in the Proceedings of the National Academy of Sciences.
They say the efforts to supply northern China are exacerbating water stress in its poorer water-exporting regions, with transfers of virtual water − defined as the total volume of water needed to produce and process a commodity or service − accounting for more than a third of the country's national water supply.
Up to 65% of the supply in some provinces is reserved for virtual water redistribution, to be used for infrastructure and for producing exports.
Until China significantly improves its water-use efficiency and addresses the impact its expanding economy is having on its natural resources, the situation will continue to deteriorate, the team concludes.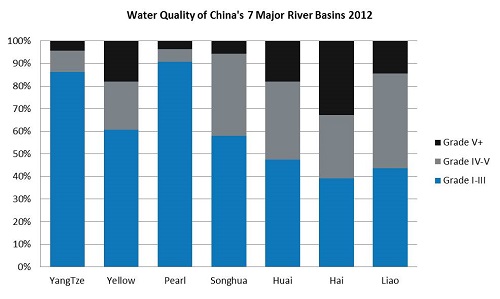 The research −  led by China's Beijing Forestry University, UEA and Leeds universities, and the University of Maryland in the US − analyses data from 2007 and looks ahead to China's water distribution plans in 2030. It finds that water stress is likely to become more severe in the main water-exporting provinces.
Dabo Guan, professor of climate change economics at UEA's School of International Development, said: "China needs to shift its focus to water demand management instead of a supply-oriented approach if it is going to seriously address the overwhelming pressures on its water supplies.
"China's current transfer programme is pouring good water after bad. The problems of water-stressed regions aren't being alleviated, and the provinces sharing their water are suffering greatly."
Guan and colleague Martin Tillotson, professor of water management at Leeds University, published research in 2014 showing that 75% of China's lakes and rivers and 50% of its groundwater supplies are contaminated as a result of urban household consumption, infrastructure investment and exports.
Increased demand
Professor Tillotson said: "Even allowing for future efficiency gains in agricultural and industrial water consumption, China's water transfers are likely to be insufficient to offset increased demand due to the effects of economic and population growth.
"A much greater focus needs to be placed on regulating or incentivising reductions in demand-led consumption."
China aims to remain about 95% self-sufficient in food, but imports more than 60% of its oil and nearly 50% of its natural gas. Some senior officials argue that it should increase food imports so as to be able to use more of its water for producing energy.
But some of China's neighbours and traditional suppliers are themselves facing growing problems from climate change, with several countries in south-east Asia contemplating a "shocking" future.
Some observers think that China's growing demand for grain imports may even strain global supplies. − Climate News Network