Widespread hunger and poverty are predicted unless strategies are developed to cope with the drop in crop yields climate change will cause.
By Tim Radford
LONDON, 22 December, 2014 – New research predicts that climate change will transform agriculture, with a drop in yields of up to 18% by 2050 in terms of calories harvested. By then, the global population will have risen by more than 18%, so the consequences could be calamitous.
That's the worst projected outcome. By the same date, the researchers say, yields in terms of calories could have risen by 3%, but that would still mean widespread hunger and poverty.
The difference in projected outcomes may say more about the sheer complexity of global agriculture and the uncertainties of the future than anything else.
David Leclère, a researcher at the International Institute for Systems Analysis (IIASA) in Austria, and colleagues report in the journal Environmental Research Letters that they used computer simulations to explore nine different climate scenarios and their impact on 18 selected crops and four crop management systems.
Human adaptations
They also factored in human adaptations that might be necessary, chief among them being new management systems for water and for irrigation.
Also explored were the benefits of a warmer world − some temperate regions will certainly become more productive – as well as the fertilisation effect of increased carbon dioxide in the atmosphere.
They had to balance these against the expectation of extremes of heat, which can affect yield, and the overall change in rainfall patterns expected with climate change.
This is already having an effect on productivity, they say, and things will get worse.
"Yields of major crops will decrease in low latitude areas even under a local increase in temperature below 2°C, and worldwide losses are expected for larger temperature increases," the study warns. "This will precipitate significant adjustments throughout the global food supply chain."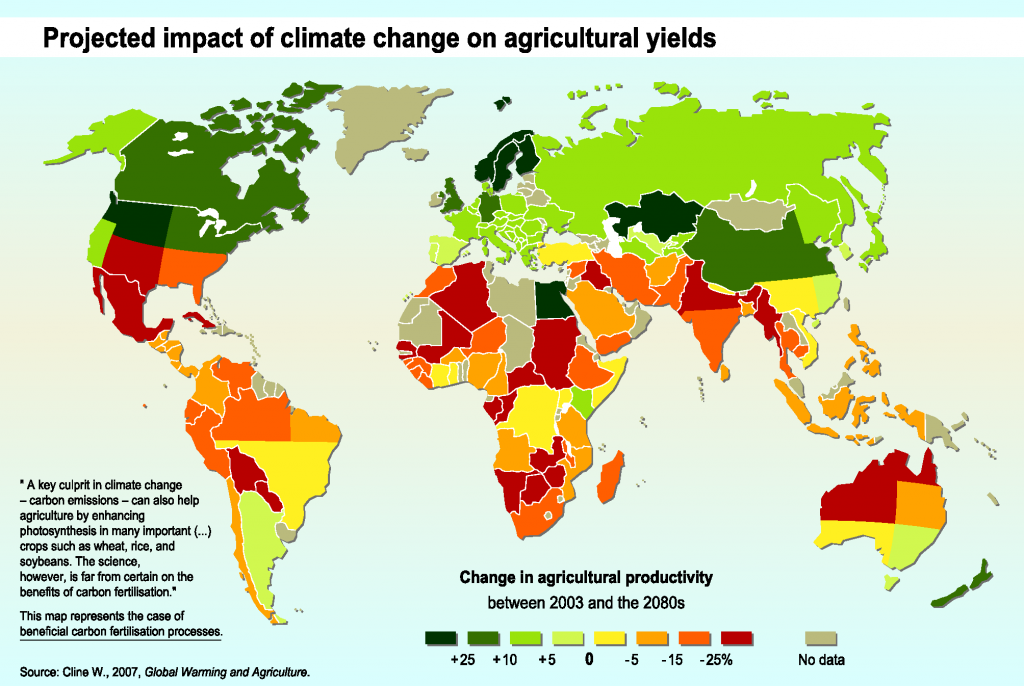 In a large part of the world, demand for irrigation may grow by as much as 25%.
Since, over the centuries, agriculture has been adapted very precisely to local climate patterns, and since climate models aren't precise enough to predict quite where precipitation will change, there is still a great deal of uncertainty.
The new research explores this uncertainty, and how humans and their economies will cope.
"Our new study is the first to examine at a global scale whether the adaptations required from agricultural systems are in the transformational range, and whether these transformations are robust across certain plausible scenarios," says Dr Leclère.
Transformations
"By looking at where, when, why and which transformations are required, but also in how many scenarios, it lays the groundwork for countries to better plan for the impacts of climate change."
Agriculture has always adapted. How well it can adapt to global climate change depends not just on temperature and rainfall and the choice of crops, but also on international trade and on the decisions governments may take.
Computer models are a way of helping analysts think about a choice of possible outcomes, across a wide range of cultures and climates.
"Our models show that there is an effective global adaptation strategy to any single climate change scenario," says Petr Havlik, an IIASA researcher, who is one of the report's authors.
"The challenge we face is to find a strategy that fits a hundred scenarios at the same time." – Climate News Network