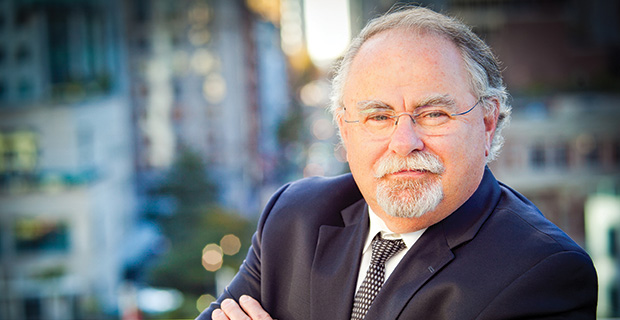 GLOBE Foundation CEO, Dr. John D. Wiebe discusses responsible management
of our natural resources, the global environmental marketplace, and the concept
of 'the circular economy'.
We will soon be at a global crossroads when it comes to sustainability, and Dr. Wiebe believes that creating more resilient cities and sustainably responsible countries will reshape the world as we know it.
Mediaplanet: People are often overwhelmed by the environmental challenges facing the world. How do you maintain optimism in the face of so much adversity? 
Dr. John Wiebe: Without doubt the challenges are enormous and as we learn more about how interconnected we are with the eco-systems that support us, we begin to realize just what has to be done to protect our social, economic and environmental wellbeing.
That being said, we cannot, and must not, throw up our hands in despair because these challenges are so daunting. It's not a question of maintaining our optimism. We start from the perspective that all problems have a solution, and those that we cannot solve entirely, require us to adapt to new realities. We have accomplished so much in terms of responsible management of our natural resources, and as we develop and deploy new clean technologies and reshape our cities and towns to be more energy efficient, we will achieve even more. These challenges bring out the best in us. That's what GLOBE is all about.
Mediaplanet: What are some of the most interesting issues that will covered in the GLOBE 2014 conference that you would like Canadian's to be aware about?
Dr. John Wiebe: Everything that is to covered in this year's GLOBE is of importance, but there are a few significant points we might highlight. 
 First, take note of the stellar line up of speakers, representing the brightest and the best in industry and government. Bobby Kennedy Jr., Amory Lovins, Lyndon Rive, Dayna Baumeister, Jim Balsillie ­— I could go on, but these are but a handful of the people who will be at GLOBE, and who are reshaping the world as we know it. They will be joined by leaders in business and government who are making a difference in the world today. [stextbox id="custom" float="true" align="right" width="300″ bcolor="d2d0d1″ bgcolor="dbdbdb" image="null"]"[Let's] turn waste into a resource rather than a problem." GLOBE Foundation CEO, Dr. John D. Wiebe[/stextbox]
In terms of the issues to be discussed, the need to manage all natural resources responsibly has given rise to several sessions on issues. Examples of these issues include: natural capital, paying for what we take from nature, earning the social license to operate, a particularly important issue in developing economies, turning wastes into a resource rather than as a problem, taking action to deal with climate change, and pursuing new perspectives on mining for the future.
Building more resilient cities is another key theme at GLOBE 2014. Cities everywhere are grappling with the challenges of population growth, fluctuating energy prices, shortages in funds for infrastructure renewal, and the need to deal with the often devastating impacts of extreme weather incidents. 
There is an urgent need for flexible yet long-term urban management policies and programs that span everything, from energy and water supply, to transportation, waste management, and infrastructure. Several speakers at GLOBE 2014 will zero in on some of today's most pertinent issues related to building more resilient cities.
Also pertinent will be the discussions on energy, its development, deployment, and management. We will be touching on some of the most contentious issues in the energy landscape today ­— but from a balanced perspective of what are the issues and what are the solutions to the problems that must be dealt with. We'll be looking at energy supply and demand, Canada's oil sands, the future of LNG, utilities of the future, and the growing importance of renewable energy.
Mediaplanet: The Circular Economy is one of the themes of the GLOBE 2014 conference. How would you define the Circular Economy and how is this model helping to increase productivity, drive innovation and lower our ecological footprint?  
Dr. John Wiebe: The circular economy is a concept for an industrial economy that is, by design or intention, restorative in nature. The founding principles rely on the idea that: waste no longer exists – it is a resource; that diversity within a system increases resilience; that long-term energy comes from renewable sources; and "systems" thinking lies at the heart of design.  Common elements and tools include biomimicry, industrial ecology, cradle-to-cradle, and the performance economy. 
The circular economy is now gaining the attention of business', governments, and the next generation as a model to transform today's "take-make-dispose" economy into one that aligns business models with product and material design to decouple growth from resource constraints. The key building blocks in making the transition to a circular economy include skills in circular design, production, and cross-sector collaboration.
In January of this year, the Ellen MacArthur Foundation announced Project Mainstream, a collaborative initiative which aims to work with companies to tackle ways to enable the circular economy through materials management, information technologies, and business model innovation with the potential to generate US $500 million in materials savings and prevent 100 million tonnes of waste globally.
Mediaplanet: How has the global environmental marketplace evolved in the past 25 years? Where is it going in the next 10?

Dr. John Wiebe: Global environmental and energy markets have changed dramatically over the past quarter century, and it is hard to separate the two. New key players have emerged that are changing long established supply – demand relationships that have altered the geo-political balance of power in the global economy in the process. China is now a major consumer of natural resources and is active in every continent seeking to secure resources for it growing population.  [stextbox id="custom" float="true" align="right" width="300″ bcolor="d2d0d1″ bgcolor="dbdbdb" image="null"]"I think if I had $100 million of equity capital to work with, I would focus on water." GLOBE Foundation CEO, Dr. John D. Wiebe [/stextbox]
The United States is now approaching energy independence, a far cry from even a decade ago, and countries in the oil rich Middle East are fast becoming the breeding ground for renewable energy and clean technology solutions.
Developing countries are the fastest growing markets for environmental services, and the need to build better water management systems and to improve food production in the face of climate change impacts is a particularly daunting challenge. 
Change is the over-riding factor in the world environmental marketplace, and innovation is emerging as a key element in terms of devising and deploying solutions to these challenges.
Mediaplanet: What is one of the most exciting and innovative projects you've ever worked on?
Dr. John Wiebe: That is a hard one to answer, I think making GLOBE the driving force for change that it is for the business of the environment is the most personally rewarding endeavour that I have worked on. For a quarter century GLOBE has led the way in new thinking about corporate environmental stewardship and has showcased technologies that are now commonplace fixtures in the world environment scene.
It has been an exciting journey, working closely with some of the greatest minds in the world seeking to deal with the challenges of environmental protection. We have helped to set the stage for issues that are now part of public policies around the world. Issues that are being debated in multilateral forums and which are shaping the agendas of business and governments were first aired at GLOBE. It is something that I personally take pride in.
Mediaplanet: If we were to give you $100 Million to invest in your own environmental business what would that be?
Dr. John Wiebe: That too is a hard one to answer, because the opportunities are so plentiful. I think if I had $100 million of equity capital to work with, I would focus on water. Water is so vital to every aspect of our social and economic well-being and most of us do not realize the enormity of the threats that exist to the availability of clean, fresh and safe drinking water.
Developing affordable and effective systems of water purification that can be deployed in cities, towns, farms and factories around the world will do much to alleviate what is emerging as a critical challenge to one of the staples of life. We will have special session on Food and Water at GLOBE 2014 – and there you will see most clearly how these two are so vitally connected.
---
This article first appeared in a Special Sustainability Supplement prepared by Mediaplanet that was published in the March 27th edition of the Toronto Star.