by Velma McColl
With the federal government focused elsewhere, and increasing demands from the public and major players in the private sector, a somewhat surprising group is stepping into the leadership vacuum on energy policy: Canada's premiers. Progress has been made to define a Canadian energy strategy over the past few years – but now political capital is needed to broker a credible deal by summer 2014. With a little more ambition and effort to push past traditional intergovernmental lethargy, a plan can be created that works for the regions and for Canada's economic and environmental future. 
---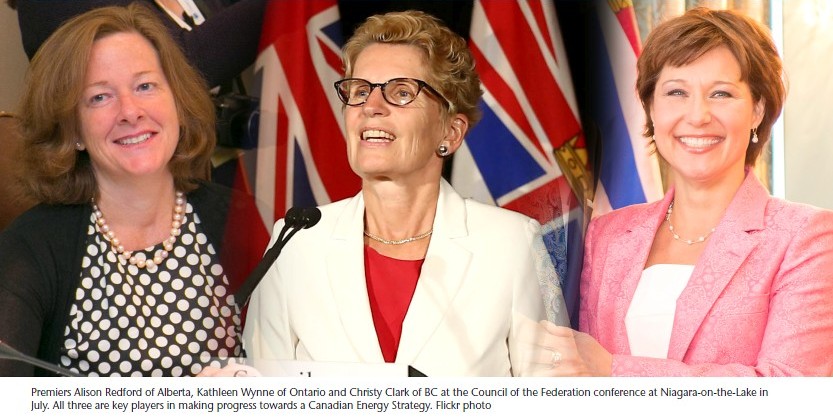 ---
Premiers talked energy this summer at the Council of the Federation (COF) and issued progress report, a placeholder to give them more time to negotiate a broader Canadian energy strategy. Alberta Premier Alison Redford was the original driving force and she is now joined by Premier Greg Selinger of Manitoba and Premier Kathy Dunderdale of Newfoundland and Labrador in leading the premiers toward a full report in 2014.
They were smart to take a slower approach last year, framing the debate and surfacing – but not resolving – some of the uncomfortable issues. Moving forward, they need to start addressing the concerns over energy infrastructure, innovation, conservation and climate change and develop a credible package that stakeholders and the public can support. This will require a little creativity, common sense and, to broker something worthy of Canada's energy ambition, some political capital.
Velma McColl is a principal of the Earnscliffe Strategy Group, where her practice focuses on energy, clean technologies and the environment.  velma@earnscliff . This article appears in the September – October 2013 edition of Policy Magazine and this excerpt is reproduced here with the kind permission of the author.

A National Energy Strategy – Is it Time? will be a major item of discussion at GLOBE 2014 taking place in Vancouver, Canada March 26-28, 2014. Do plan to attend and hear from those at the forefront of this debate. Learn more here: