by Gaia Arzilli 
This week I popped over to Brussels for the official launch of the European Industrial Symbiosis Association (EUR-ISA). The event was presided by the European Commissioner for the Environment Janez Potočnik and a number of other influential MEPs, that gathered at the British Residency to express their support towards Industrial Symbiosis, a cause that Peter Laybourn and his organisation, International Synergies, has been promoting for more than 10 years.
Let's start from the beginning, what is industrial symbiosis? The principle behind this concept is simple (even if the name is tricky): the waste streams of industries, along with other underutilised resources, are redirected for re-use in another industry. This could include materials, water use, energy use, innovations, knowledge transfer, best practice, logistics and underutilised assets. The process creates business opportunities around resources, achieves significant carbon reduction and contributes to landfill diversion. In the words of Jyri Arponen, business director at SITRA: "if Mother Nature would have design the process, it wouldn't have created waste, this is the concept of Industrial Symbiosis."
Industrial Symbiosis, therefore, is a driver of green growth as is able to promote eco-innovation, resource efficiency and job creation.  Policy makers and regulators are staring to implement industrial symbiosis into planning, economic development and sustainable policies. For example, the concept has been incorporated into the 'Roadmap to a Resource Efficient Europe' as a necessary step towards sustainable economic growth. This is the reason why we were all there on Wednesday, for the launch of EUR-ISA.
Countries across the European Union are dependent on imports of raw materials, which leads to inefficiency in our economies. As Nikos Chrysogelos, Vice Chair Committee on Regional Development, suggests:"industrial symbiosis has the capabilities to transform our economies in a much more energy efficient way as they reduce waste and improve industrial design". Malcolm Harbour MEP, Chair Committee on Internal Market and Consumer Protection, took this argument even further, claiming that "we would have better policies if we had more symbiosis as they are able to build networks between people that come from different sectors."
 The Commissioner for Environment, Potočnik, spoke about the necessity to move away from our linear model of resource consumption, where we consider it normal to take-make-use-throw away, to a more circular economy where we are able to re-use materials, transforming one industry's waste into another's raw material. He supported this claim by showing that 40% of the cost of manufacturing is actually material costs. Even if research indicates that efficiency improvements could help us meet almost 30% of increased resource demand by 2030, we will need to achieve the rest by re-using the resources that we currently have. Furthermore, the Commissioner argued that resource-efficient businesses need to become the norm (rather than the exception) and clean technologies, innovation and greater cooperation are the essential ingredients to achieve this. "Industrial Symbiosis is a very practical demonstration of how implementing circular economy models can deliver both improved competitiveness, and reduced environmental impact at the same time."
It's a compelling model and after seeing the results that industrial symbiosis has achieved in the last 10 years, it will be exciting to see where EUR-ISA is going to take resource efficiency in the next decade.
For more information on industrial symbiosis and the work of International Synergies, watch Peter Laybourn, CEO, being interview in Hug in the Snug.
---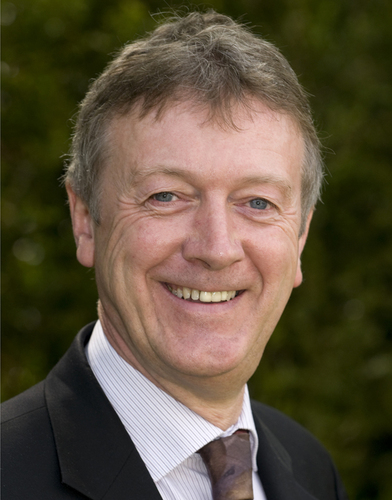 Peter Laybourn, Chief Executive, International Synergies, is responsible for the UK's National Industrial Symbiosis Program (NISP). Peter will be a speaker at GLOBE 2014 taking place in Vancouver, Canada March 26-28, 2014. Check here for more details.
---
Gaia Arzilli is Campaign Manager at Life Size Media. This article first appeared in Life.Size.Media and is reprinted here with the kind permission of the author.