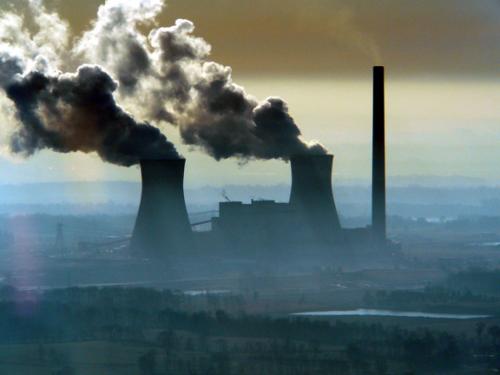 GLOBE-Net, December 22, 2014 – A new report released by Thomson Reuters on greenhouse gas (GHG) examining emissions data from the world's 500 largest businesses (the Global 500) shows emissions from this group are trending upwards despite reduction targets announced by many members.
Written in collaboration with BSD Consulting, a global sustainability firm, the report shows that from 2010 to 2013, GHG emissions from the Global 500 have increased 3.1 percent.
This is a concerning trend given that GHG emissions should have seen a 4.2 percent reduction to meet standards outlined in the 2014 UNEP Emissions Gap Report intended to provide a path through 2050 to keeping global temperatures within a two degrees Celsius average increase.
Two Chinese energy firms topped the list as the largest emitters in 2013 – PETROCHINA and China Petroleum & Chemical Corporation.
Two Canadian companies were listed in the top businesses with 2013 GHG footprints of greater than 10 million tonnes and an increase of more than 10 percent over 2010 – Canadian Natural Resources Limited and Husky Energy Inc.
Three US firms topped the list of companies with 2013 GHG footprints of greater than 10 million tonnes and a decrease of more than 10 percent over 2010 – ConocoPhillips, Valero Energy Corporation, and Dominion Resources, Inc.
Among the data included in the report, the Global 500 is responsible for more than 10 percent of the world's GHG emissions, which are concentrated among the top 50 firms, who account for 79 percent of all Global 500 emissions.
"As we saw during the recent United Nations Climate Change Conference in Lima, Peru, there's an urgency to curb greenhouse gas emissions worldwide so we can reduce the impact of climate change," said Tim Nixon, director of Sustainability at Thomson Reuters, and a co-author of the report.
"While we hope this report accelerates the discussion related to GHG reductions among the Global 500, it's important to remember that as global consumers of industry, we all play a part in this conversation."
Data was gathered from self-reported GHG emissions data from businesses and from estimates pulled from Thomson Reuters Asset4 – a leading provider of environmental, social and corporate governance (ESG) data.
"The conclusion of the report is that increased awareness of global GHG data can foster transparency, innovation and a better understanding among companies and stakeholders that can lead to further reductions in GHG emissions," said John Moorhead, executive manager of BSD Consulting, and co-author of the report.
"We want to support better decision-making by global businesses and stakeholders alike, improving GHG emissions goals into 2015 and beyond."
Other conclusions noted were:
GHG emissions are unevenly distributed with a significant concentration in the Top 20 (56 percent of global 500 emissions) and Top 50 (79 percent).
The Global 500 have shown big differences in emission trends given the significant variation in their individual increase/decrease rates seen in GHG emissions from 2010 to 2013.
As illustrated by the example footprints, GHG under Global 500 responsibility (that they produce directly and indirectly) can be strongly influenced by using different strategies and stakeholder engagement (carbon intensity reduction, energy efficiency, green business growth, carbon-intensive business divestment, greener energy procurement, supply chain targets, etc.).
Some businesses have managed to significantly decrease their GHG emissions in line with – and even exceeding – required decrease rates to stay within a 2° C increase.
To help reduce the impact on the climate, businesses and their stakeholders will need to focus more on the absolute tonnes of GHG and their emissions trend over time versus other benchmarks (e.g., "carbon intensity" or carbon per amount of revenue produced). In the end, it is total emissions which are having an impact on our present and future climate.
Increasing awareness about how the Global 500 contribute to GHG emissions should enable more transparency; better understanding of materiality of GHG for individual companies; and greater engagement and dialogue by their management, investors and stakeholders on how to reduce them.
To review the full report, or for more on the methodology and analysis of Global 500 data, visit here