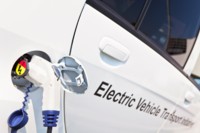 GLOBE-Net, November 7, 2014 – According to the latest Navigant Research Market Report, the global light duty electric vehicles (EV) market is expected to grow from 2.7 million vehicle sales in 2014 to 6.4 million in 2023.
Spurred in part by government incentives, the small but rapidly changing EV market, which includes hybrid, plug-in hybrid, and battery electric vehicles (HEVs, PHEVs, and BEVs), will become an important part of the global automotive industry.
Governments worldwide are keen to see increasing penetrations of EVs due to the environmental, economic, and energy security benefits they provide, notes Navigant. Consequently, governments have pushed automakers to develop EVs and have provided incentives for citizens to buy them.
Indeed government policy has been fundamental in providing the foundation for the global EV market.
---
See also:
---
However it is unlikely that government incentives will remain high in the most developed markets. In these markets, it is likely the EVs will become more available in luxury class segments, where the plug-in electric vehicle (PEV) premium is less pronounced relative to comparable vehicles due to higher overall vehicle prices.
Furthermore, the market for vehicles that reduce fuel consumption is becoming more competitive due to other fuel efficient and alternative fuel technologies.
Of note are fuel efficiency advances made to conventional internal combustion engines (ICEs) through stop-start technologies, the use of lightweight materials for body panels and chassis, engine downsizing, and growing interest in diesel.
These advances to the conventional vehicle platform threaten HEV market share in economy class segments and are widely applicable to body types outside of the standard hatchback profile typical of EVs.
Growth in HEV, PHEV, and BEV platforms will be contingent upon expanding EV availability outside of the small hatchback segment into larger vehicle formats such as sport utility vehicles (SUVs) and trucks.
---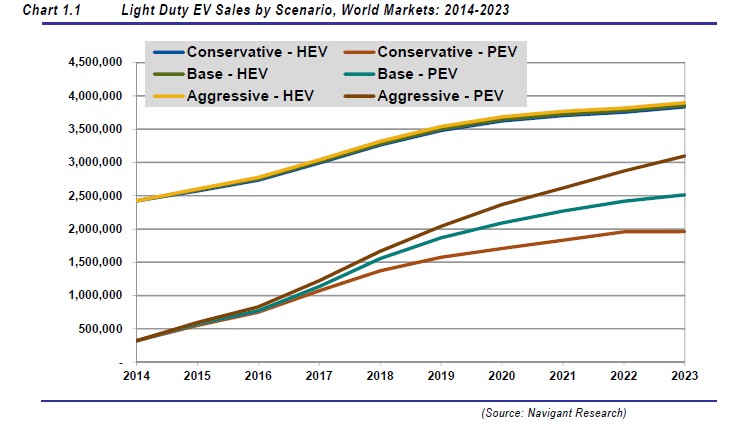 Market Forecasts
Navigant Research's Electric Vehicle Market Forecasts model provides vehicle segmentation forecasts broken out in three scenarios: conservative, base, and aggressive. The model is made up of two major elements: automaker EV roadmaps and the EV return on investment (ROI).
Variables influencing each scenario include forecasts on retail fuel prices, electricity rates, conventional ICE fuel economy, HEV fuel economy, improvements in lithium ion (Li-ion) energy density, cost reductions to Li-ion batteries, government incentives to drive market growth, and government policies to drive EV development.
Based on these factors, Navigant Research estimates the global light duty EV market will surpass 2.7 million vehicle sales in 2014, with PEVs accounting for roughly 12%.
Based on these assumptions, the global EV market will grow to reach nearly 5.8 million vehicles in the conservative scenario and nearly 7.0 million in the aggressive scenario.
Although PEVs only account for 12% of the EV market in 2014, sales are expected to increase dramatically to over 2.5 million units in 2023, capturing 39% of the segment. HEV sales are expected to surpass 2.4 million in 2014, but will not grow as quickly as PEVs, reaching nearly 3.9 million units by 2023.
The  Navigant Research Market Report is available for purchase here.