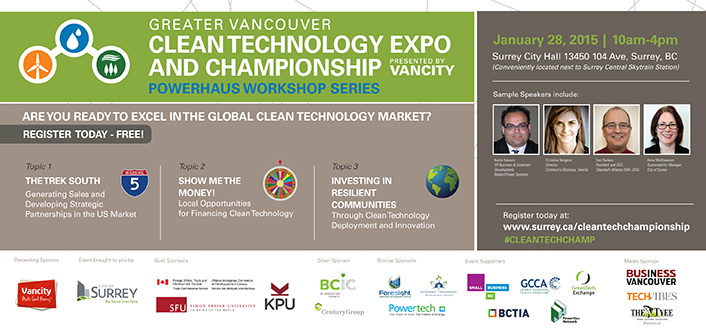 Surrey, BC, January 30, 2015 – Approximately 500 people converged at Surrey City Hall to witness 38 companies from the Metro region vie for the title of Greater Vancouver's Clean Technology Champion this past Wednesday.
Participants pitched to the judges their best clean technology products and solutions in hopes of winning a $10,000 prize provided by Vancity credit union as well as a trophy designed by KPU's School of Design.
"The City of Surrey was pleased to host this regional event for the clean technology sector," said Mayor Linda Hepner. "The 38 companies that competed represent some of the best and brightest innovators this region has to offer and we look forward to seeing their technologies applied in local and international markets."
"We were delighted to support the Greater Vancouver Clean Tech Expo and Championship, and impressed with the showcase of local companies that are leading the way in this emerging sector" Said Maureen Cureton, Green Business Manager at Vancity.
The championship which was judged by 12 prominent local and international clean technology investors and buyers awarded the top prize to TSO Logic who was selected from a group of six finalists.
"On behalf of the judging committee, congratulations to TSO Logic for winning the inaugural Greater Vancouver Clean Technology Championship – there was a stellar field of competitors but TSO Logic's data centre energy efficiency software stood out for its potential economic, environmental and social impact both locally and in the markets they serve" said Neil Huff, Managing Director of Foresight Cleantech Accelerator Centre and Lead Judge for the event.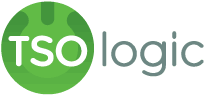 TSO Logic is the energy efficiency software for data centers that can reduce server energy waste by up to 50% and provides never before seen insights into things like application workload and IT efficiency levels.
The software is called Application‑Aware Power Management™ and it works from a single server, with no impact on performance or costly changes to infrastructure.
"It's fantastic to be recognized as the Greater Vancouver Clean Tech Champs for 2015", said Aaron Rallo, Founder and CEO of TSO Logic.
"Every day, servers in data centers throughout the world are wasting massive amounts of energy. With our software solution focusing on IT workload, which is the source of energy waste, we are excited to be helping companies save energy and reduce their harmful emissions."
Along with the Greater Vancouver Clean Technology Championship, a team of SFU and KPU business students also heard pitches from the competing companies and selected MegaHertz Power System Ltd. as the winner of the Century Group Student's Choice Award worth $3,000 provided by Century Group.
Finalists for the Greater Vancouver Clean Technology Championship included: Solaris Geothermal, FLO Innovations, Adrroit Technologies, Dew Point Technologies, MegaHertz Power Systems and TSO Logic.
In addition to the championship, some of North America's top clean technology experts were on hand on hand to share their insights on how to succeed in the clean technology sector as part of the PowerHaus Cleantech Workshop Series.
Download the Clean Technology Championship Program Guide for more event details.