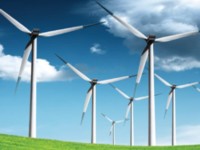 GLOBE-Net, November 6, 2014 – Health Canada has published findings from the just completed Wind Turbine Noise and Health Study.
In general, no evidence was found to support exposure to wind turbine noise and any of self-reported or measured health impacts.
However, the study did demonstrate a relationship between increasing levels of wind turbine noise and annoyance towards several features (including noise, vibration, shadow flicker, and the aircraft warning lights on top of the turbines) associated with wind turbines.
Launched in 2012, in collaboration with Statistics Canada, this study explored the relationship between exposure to wind turbine noise and the health effects reported by, and measured in, people living near wind turbines.
The following were not found to be associated with wind turbine noise exposure:
self-reported sleep (e.g., general disturbance, use of sleep medication, diagnosed sleep disorders);
self-reported illnesses (e.g., dizziness, tinnitus, prevalence of frequent migraines and headaches) and chronic health conditions (e.g., heart disease, high blood pressure and diabetes); and
self-reported perceived stress and quality of life.
"Based on the summary, the Health Canada study is an important new addition to scientific research on wind turbines and human health," said Robert Hornung, President of the Canadian Wind Association (CanWEA).
"The balance of scientific evidence to date continues to show that properly sited wind turbines are not harmful to human health and that wind energy remains one of the safest and environmentally friendly forms of electricity generation."
Quick Facts
The study was conducted in Southwestern Ontario and Prince Edward Island and included 1238 households out of a possible 1,570 households living at various distances from 399 separate wind turbines in 18 wind turbine developments.
This study is the first study related to wind turbine noise to implement the use of both self-reported and physically measured health endpoints.
Measured health-related indicators included hair cortisol as a biomarker of stress, blood pressure, resting heart rate and sleep.
The following was found to be statistically associated with increasing levels of wind turbine noise: annoyance towards several wind turbine features (i.e. noise, shadow flicker, blinking lights, vibrations, and visual impacts).
This annoyance was found to be statistically related to several self-reported health effects including, but not limited to, blood pressure, migraines, tinnitus, dizziness, etc.
But these associations were not dependent on the particular levels of noise, or particular distances from the turbines, and were also observed in many cases for road traffic noise annoyance.
The study findings suggest that health and well-being effects may be partially related to activities that influence community annoyance, over and above exposure to wind turbines.

Further Study Warranted
Health Canada consulted the Wind Turbine Noise and Health Study Expert Committee on these findings. Detailed analysis and further results will be shared with Canadians and the international (scientific) community over the next several months with updates provided on the Health Canada website.
It is important to note, says Health Canada, that the findings from this study do not provide definitive answers on their own and must be considered in the context of a broader evidence base.
The complete finds are available here.
Editor's Update
See also this interesting report from GE