WINNIPEG—10 December 2014—The $548 billion USD that is paid annually in fossil fuel subsidies around the world is preventing a crucial transition to renewable energy sources. This is according to a new report released today from the International Institute for Sustainable Development (IISD).
The Impact of Fossil-Fuel Subsidies on Renewable Electricity Generation finds that fossil fuel subsidies make fossil fuel power generation appear cheaper than it really is, adversely impacting the competitive position of renewable energy sources. The report also finds that fossil fuel subsidies provide benefits to fossil-fueled incumbents that are preventing new renewable energy entrants access to the market.
"Fossil fuel subsidies are harming the sustainability of the electricity sector, and so they must be phased out," said Peter Wooders, director of IISD's energy program. "Not only are they a bad use of public funds, but they also mean that taxpayers are effectively paying to prevent a transition to a sustainable electricity sector."
The report shows how important fossil fuel subsidy reform is to credible action on climate change. "Governments putting a price on carbon and simultaneously subsidising fossil fuels is the most extreme form of policy incoherence," said Tim Groser, New Zealand's minister of Trade and minister of Climate Change. New Zealand is a member of the Friends of Fossil Fuel Subsidy Reform, which is a group of seven countries that advocate for the reform of harmful fossil-fuel subsidies.
IISD has also produced an infographic to illustrate how fossil fuel subsidies are holding us back from reducing carbon emissions.
The International Energy Agency's latest estimates indicate that subsidies for the consumption of fossil fuels worldwide amounted to $548 billion in 2013. This figure includes subsidies in the electricity sector, such as for coal-fired generators.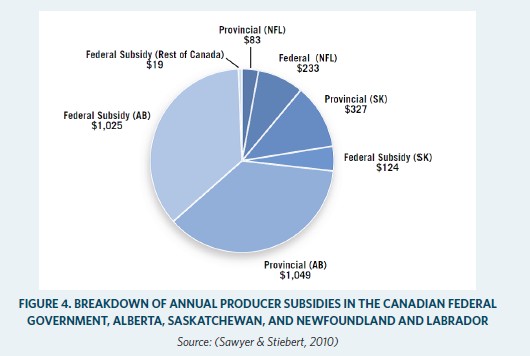 The IISD report is available here