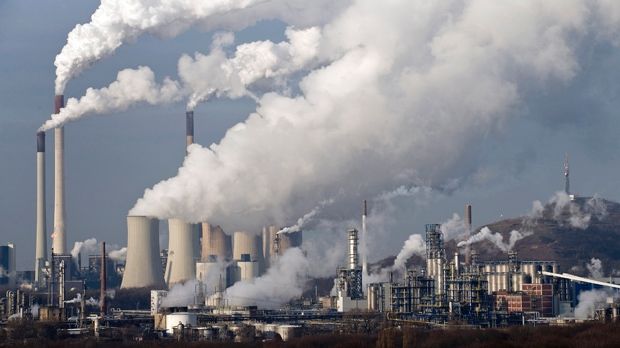 There is no sign from President Obama's visit that India will be pressured into making any immediate plans to cut its greenhouse gas emissions.
By Nivedita Khandekar
NEW DELHI, 27 January, 2015 − Hopes that India and the US might announce ambitious plans to co-operate in tackling climate change have proved wide of the mark.
A meeting here between the visiting US president, Barack Obama, and Indian prime minister Narendra Modi, showed India determined to follow an independent line − although Modi said it does intend to increase its use of renewable energy.
Modi did not offer any hint of a reduction in coal use. And on possible targets for reducing greenhouse gas (GHG) emissions, he said nothing beyond agreeing to phase out hydrofluorocarbons, while insisting that India demands equal treatment in cutting GHGs.
India is the third largest GHG emitter, after China and the US, but generates only two tonnes of CO2 equivalent per capita, compared with 20 tonnes in the US and eight in China.
Limited liability
The two leaders smoothed the way for further Indian use of nuclear power, outlining a deal to limit the legal liability of US suppliers in the event of a nuclear power plant catastrophe.
Referring to the recent agreement between the US and China to work together on CO2 cuts, Modi said: "The agreement that has been concluded between the US and China does not impose pressure on us; India is an independent country. But climate change and global warning itself is huge pressure."
Analysts here point out that there has been little time yet for Modi and Obama to develop a strong working relationship, and that it could be premature to dismiss the outcome of this meeting as disappointing.
Before last month's UN climate talks in Lima, Peru, India said it had put in place several action plans for achieving Intended Nationally Determined Contributions (INDCs), which are key elements of the bold climate agreement that many governments hope will be signed at the next round of talks in Paris in December.
India continues to maintain that its INDCs will be announced "at an appropriate time with specific contributions".
Last week, Modi called for a paradigm shift in global attitudes towards climate change – from "carbon credits" towards "green credits". He urged nations with the greatest solar energy potential to join India in innovation and research to reduce the cost of the technology and make it more accessible.
"Instead of focusing on emissions and cuts alone, the focus should shift to what we have done for clean energy generation, energy conservation and energy efficiency, and what more can be done in these areas," he said.
Modi and Obama announced action to advance India's transition to a low-carbon economy, and India reiterated its goal of increasing its solar target to 100 gigawatts by 2022, which the US said it would support.
Ambitious agreement
India's Ministry of External Affairs said they had "stressed the importance of working together and with other countries to conclude an ambitious climate agreement in Paris in 2015".
Anu Jogesh, a senior research associate with the Centre for Policy Research's Climate Initiative, said: "There was a lot of buzz in policy circles and the media that there might be some kind of announcement, not on emission cuts per se but on renewable energy. However, apart from the nuclear agreement, little else has emerged."
Answering fears that India might become a ready market for US companies, Dr Pradipto Ghosh, Distinguished Fellow at the Energy and Resource Institute, said: "The large scale will inevitably bring down costs and companies will offer competitive prices, and also bring in more reliability, efficiency and product quality." − Climate News Network
---
Nivedita Khandekar is a Delhi-based independent journalist who writes on environmental, developmental and climate change issues. Email: nivedita_him@rediffmail.com; Twitter: @nivedita_Him