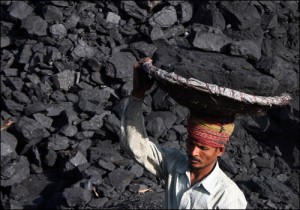 While even China, the world's leading coal producer, begins to recognize the fuel's serious polluting effects, India has announced it aims to double production to meet soaring energy demand.
By Alex Kirby
LONDON, 7 November, 2014 – The man responsible for maintaining India's power supply says he wants the country's coal production to double within the next five years.
Piyush Goyal, Minister of State for Power, Coal, New and Renewable energy, says India needs to dig twice as much coal as it does today if it is to meet its soaring energy demand. By 2019, it is expected to be consuming two trillion units of electricity annually, with one unit equaling one kilowatt hour.
Describing  coal as "an essential input for power", Goyal said: "I see Coal India production doubling in the next five years. It makes about 500 million tonnes hopefully this year. We [will] do a billion tonnes in 2019."
He was speaking at the India Economic Summit, held in Delhi from 4 to 6 November, and hosted by the World Economic Forum and the Confederation of Indian Industry.
Raised consumption
India was listed as the world's third largest coal producer in 2011 − after China and the US − with 588.5 million tones, which is 5.6% of the global total. But imports helped to raise consumption to around 715 million tonnes − still in third place globally.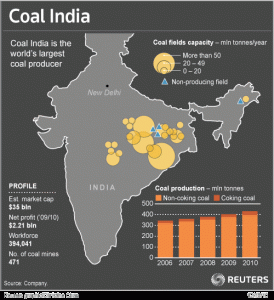 Doubling production would attract opposition for several reasons − and one is the impact on greenhouse gas emissions.
On 2 November, the Intergovernmental Panel on Climate Change published its 2014 Synthesis Report. The IPCC chair, Dr R K Pachauri − himself an Indian citizen − said the report meant emissions would need to drop by between 40% to 70% globally by 2050, and to zero or below by 2100.
Without the use of carbon abatement technologies such as scrubbers to remove pollutants from emissions − or perhaps carbon capture and storage, if it proves to be effective − coal is the most polluting of the fossil fuels. For climate change, adding more than 5% to the world's total coal supplies would be a big step in the wrong direction.
There is also the damaging effect on health − one of the main reasons why China seems to be losing its appetite for coal use. The World Health Organisation said earlier this year that 40% of the seven million people killed by air pollution globally in 2012 lived in the region dominated by China.
Deep concern
Beyond pollution and health, there is also deep concern over the impact of coal-mining on local communities.
Residents of Chilika Daad, a village in the coal-rich Sonebhadra district of Uttar Pradesh state, told The Guardian newspaper in London that they were tired of the blasting and the dust.
The promises they had been given of development, investment and jobs were left unfulfilled, and all they were left with, they said, were homes they couldn't sell and lives they couldn't change.
The area is judged to be the third most polluted place in India because of emissions from power plants and dust from coal mines.
There are allegations of corruption in the awarding of mining concessions, and some of the tribal communities in affected areas are wondering whether to invoke the constitutional rights that might allow them to stop mining going ahead.
But the pressure to extract the coal will be hard to resist. The new prime minister, Narendra Modi, has promised that the 400 million Indians who lack electricity will soon have it. That commits him to electrifying every village in the country by 2020. − Climate News Network