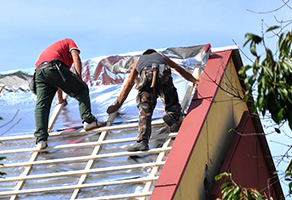 GLOBE-Net, December 3, 2014 – The Acadia Center's latest report – Energy Efficiency: Engine of Economic Growth in Canada – provides policymakers and the public with detailed analysis regarding the macroeconomic impacts of energy efficiency programs across Canada.
Other assessments of energy efficiency programs show large direct savings to consumers and growth in energy service jobs.
By looking at the broader, macroeconomic impacts of those savings, Acadia Center's modeling study shows that the energy savings generated by efficiency programs frees up money for new spending (in the residential sector) and promotes increased competitiveness and output among businesses and industry.
This translates into significant economic growth and job creation potential.  Findings at the national level for a range of investment scenarios include:
A total net increase (over the base case economic forecast) in national GDP of $230 billion to $580 billion over the study period (2012-2040). Every $1 spent on energy efficiency programs results in an increase in GDP of $5 to $8.
A total net increase in national employment of 1.5 to 4.0 million job-years (one job-year is equivalent to one job for a period of one year).  Every $1 million invested in efficiency programs generates 30 to 52 job-years.
Across Canada, the peak annual increase in GDP is $19 billion to $48 billion, and the maximum annual increase is 121,000 to 304,000 jobs.
This is a net benefit analysis.  The results also include the negative ratepayer effects, or costs, to fund programs and losses from avoided electricity generation
"Energy efficiency is a catalyst of economic growth," said Dan Sosland, Acadia Center President.  "Households and businesses that participate in efficiency programs see lower bills.  Instead of spending billions on unnecessary energy supply, the dollars saved are put to work in the local economy, providing widespread benefits beyond those commonly acknowledged or measured."
---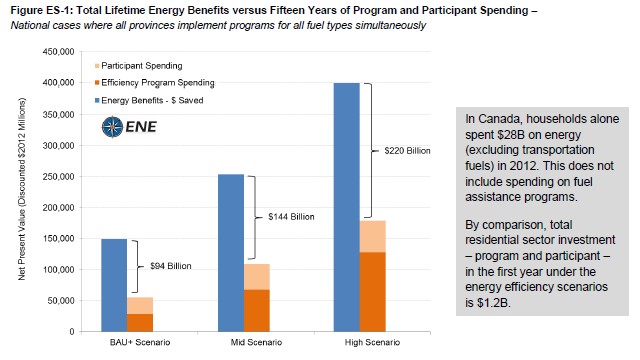 ---
"Energy efficiency is an important and often undervalued energy resource," said Leslie Malone, Acadia Center's Canada Program Director.  "Efficiency delivers many benefits; it saves households money, improves industrial competitiveness, and drives economic growth and job creation throughout sectors and across Canada.  All Canadians will benefit from investments that reduce energy waste, empower consumers, and improve environmental performance."
Efficiency investments optimize energy consumption and demand. Efficiency resources contribute to economic growth and job creation because:
Saving energy starts with smart spending. Saving energy requires investment in products like high-efficiency lighting and equipment as well as community labor like hiring contractors to install insulation or new windows, generating increased local spending and jobs.
Saving energy is less expensive relative to other energy options. On average, efficiency programs costs 2-4 cents to save a lifetime kilowatt-hour (kWh) of electricity. By comparison, coal-fired generation can cost 10 cents/kWh. Investing in energy efficiency when it is lower cost than traditional energy options lowers the cost of the energy system and saves all ratepayers money.
Energy efficiency lowers energy bills. Improving the energy efficiency of homes and businesses lowers demand for energy and consumer energy bills. Nationally, the scenarios modeled in this study save $94-$220 billion in avoided energy costs from 2012 to ~ 2040. Lower
energy bills reduce the cost of living and of doing business, leading to increased discretionary spending (dining out, renovations, travel) and improved industrial competitiveness, which drives new economic output.
Energy efficiency is an important resource with many benefits, including a significant potential to save households money, improve industrial competitiveness, and drive economic growth and job creation across Canada (see overview on page 3). All Canadians benefit from investments that reduce energy waste, empower consumers, and improve environmental performance.
Acadia Center co-authored the report with Dunsky Energy Consulting and Economic Development Research Group.
A comprehensive, macroeconomic forecasting tool developed by Regional Economic Models, Inc. (REMI) was used to project the impacts of increased investment in cost-effective efficiency programs for electricity, natural gas and liquid fossil fuels across the ten provinces.  The study also assesses the resulting provincial and federal tax revenue impacts.
The work was supported by advisors from Natural Resources Canada, the National Energy Board, provincial departments of energy, utilities, and other experts in the field.
The study and supporting material are available here: