It's a question that is not easy to answer due to widely divergent views about what constitutes an environmental market.
However, a new report released last month puts the value of Canadian environmental markets at between $406 and 625 million.
Sustainable Prosperity's "Environmental Markets in Canada – 2013" looks at 52 Canadian markets in the categories of Air and Carbon; Water; and Habitat and Biodiversity, and is the second such annual survey issued by the Ottawa-based green economy think tank. The 2013 survey shows that important new markets have been created in Canada that will translate into a larger sector in future years.
[stextbox id="custom" float="true" align="right" width="300″ bcolor="d2d0d1″ bgcolor="dbdbdb" image="null"]Environmental markets help put a value on the benefits Canadians get from the environment and place a cost on pollution – they help make visible something that is often invisible.[/stextbox]
Key Messages from the Survey
Environmental markets allow us to see the full costs of using our environment and the full benefits of preserving it. Properly designed environmental markets can help promote economic activity that is environmentally sustainable.
The value of environmental markets in Canada for 2012 is estimated to be between $406 million and $625 million. This represents no discernible growth from our previous estimate of the value of environmental markets in 2011.
New environmental markets are emerging. The highlight from the past year has been the official launch of Quebec's greenhouse gas emissions cap-and-trade system,
Canada has the potential to use environmental markets much more widely. For example, Quebec's new carbon market alone is estimated to have an annual value of $425 million by 2016.
Climate change policy will continue to be the main driver of new environmental markets. Provinces are developing greenhouse gas reduction policies that will likely include environmental markets. The pending federal oil and gas sector greenhouse gas regulations may contain provisions for market mechanisms to facilitate the achievement of emissions reductions.
Data and transparency challenges persist and are a major impediment to valuing environmental markets and to promoting their more widespread use in Canada.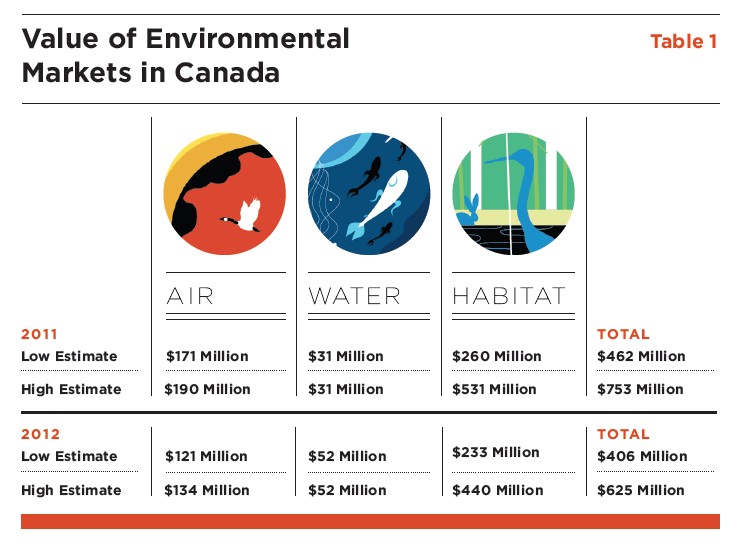 "By putting a price on pollution or putting a value on the environment, environmental markets encourage us to take action that benefits the environment. With such markets, companies that pay for their pollution have an incentive to reduce their pollution levels, and companies and individuals that practice good environmental stewardship are rewarded for their actions." explains Alex Wood, Sustainable Prosperity's Senior Director of Policy and Markets.
"Without such markets, we often lack the knowledge we need to make informed economic decisions and we end up with pollution and other forms of environmental degradation," he added.
Quebec's new carbon market is the big story for this year, says Senior Research Associate Michelle Brownlee. "We're seeing a big leap forward in the potential for environmental markets thanks to Quebec's carbon market, which had its first auction of permits in December 2013 and is expected to grow significantly in value in the coming years. Quebec's carbon market and its linkage with California's is an example of the innovative ways provinces can use environmental markets to reduce carbon emissions."
Such market innovation provides proven flexibility and cost-effectiveness compared to traditional regulatory policies. And although market-based approaches are not appropriate in all instances, Sustainable Prosperity believes that the advantages they do provide will be increasingly attractive to Canadian governments and businesses. To measure progress in the use of environmental markets, SP is committed to continuing to track, analyze, and report on environmental markets in coming years.
About Sustainable Prosperity 
Made up of business, environment, policy and academic leaders Sustainable Prosperity is a national green economy think tank/do tank. We harness leading-edge thinking to advance innovation in policy and markets, in the pursuit of a greener, more competitive Canadian economy. At the same time, we actively help broker real-world solutions by bringing public and private sector decision-makers to the table with expert researchers to both design and apply innovative policies and programs.