GLOBE-Net, November 22, 2013
Nestlé has formed a partnership with the World Wildlife Fund (WWF) and seven other major brands to lessen the amount of plastic on the planet by encouraging the development of bioplastics, or plastics derived from plants.  
Consumers searching for more sustainable alternatives to petroleum-based products will benefit from the formation of the Bioplastics Feedstock Alliance (BFA) announced by Nestlé, The Coca-Cola Company, Danone, Ford, H.J. Heinz Company, Nike, P&G, Unilever along with the conservation group, the World Wildlife Fund on November 19, 2013.  
"Joining the alliance means we will be able to help build a more sustainable future for the bioplastics industry whilst addressing issues such as land use, food security and biodiversity," said Nestlé's Global Research and Development Sustainability Manager, Anne Roulin.  
Related…
The stated primary focus of BFA will be on guiding the responsible selection and harvesting of feedstocks – such as sugar cane, corn, bulrush, and switchgrass. These are used to make plastics from agricultural materials.  
Erin Simon, of WWF said, "Ensuring that our crops are used responsibly to create bioplastics is a critical conservation goal, especially as the global population is expected to grow rapidly through 2050."  
Pushing the bioplastics or plant-based plastics research further, Nestlé says it is interested in what is termed "second-generation bioplastics" made from by-products of forestry, agriculture or the food chain such as molasses. Plastics might even be made from non-food sources such as algae, cellulose and waste products.  
All this is good news for the sustainable future of packaging products.  
 Learn more: Bioplastic Feedstock Alliance
Read Nestlé's  announcement of new alliance here
---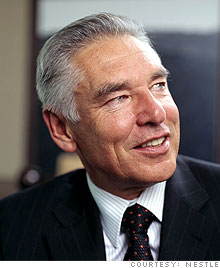 Nestle Chairman, Peter Brabeck-Letmathe will be a keynote speaker at at GLOBE 2014 taking place March 26-28, 2014 in Vancouver Canada, on the GLOBE theme of "Food and Water – the Staples of Life in Peril". Check here for more information.
---