GLOBE-Net, January 25, 2014 – Two of Canada's largest mining industry players have released recommendations for a payment transparency standard for all Canadian publicly-traded mining companies.  
The Mining Association of Canada (MAC) and the Prospectors and Developers Association of Canada (PDAC), in partnership with Publish What You Pay-Canada (PWYP-Canada) and the Revenue Watch Institute, released a report titled Recommendations on Mandatory Disclosure of Payments from Canadian Mining Companies to Governments with recommendations on a reporting framework for project-related payments made to governments by companies in extractive industries sectors.
The Report provides a roadmap for Canada to implement mandatory payment reporting standards in the mining sector.  
The roadmap entails mandatory reporting to provincial securities commissions, a step that is being applauded by groups advocating greater transparency in business as a benchmark for more discerning management of the world's natural resources.  
The Report is the result of multi-stakeholder consultations across Canada over more than a year. The guidelines would require large mining companies to report, on a project-by-project basis, all payments that exceed C$100,000 and establish a C$10,000 threshold for junior firms.  
Implementation of these recommendations would provide information about payments from companies to host governments in countries where minerals are produced, said the Group's press release.  
The framework would hold governments accountable for the revenues generated from mining activities, and would facilitate the use of those revenues for sustainable development and poverty reduction initiatives.  The new rules would also move host countries into alignment with emerging international reporting standards.  
According to Pierre Gratton, President and CEO of MAC, "The framework is consistent with existing laws in the European Union and the United States, and moves us a big step closer to a global standard."  
The group's recommendations follow a commitment by the Canadian government in the lead-up to the G8 Summit in June of 2013 to enhance extractive sector payment transparency.  
Prime Minister Stephen Harper endorsed the concept of mandatory reporting for all resource companies at that time, and Natural Resources Canada has been in consultation with provinces and industry players on ways to implement the policy for companies operating in mining and oil and gas sectors.  
The Report was commended by Claire Woodside, director at Publish What You Pay Canada. "This is a real game-changer globally," she said. "Canada now has the opportunity to take this common ground and create a robust payment reporting standard."  
[stextbox id="custom" float="true" align="right" width="300″ bcolor="d2d0d1″ bgcolor="dbdbdb" image="null"]Canadian mining companies operate and compete aggressively in the international mining sector. Roughly 60 percent of the world's mining companies are listed on Canadian stock exchanges. [/stextbox] The Group's recommendations could benefit people living below the poverty line in resource-rich, developing nations.  
Canadian law firm Davis LLP recommends that Canadian mining companies stay informed of this process by checking confidentiality clauses in contracts that give rise to any payment liabilities for mineral resources and keep on track of such payments. There is still work to be done, according to the Davis LLP article, as the Report bypasses some pivotal details. For example, it remains uncertain how the federal government will address payments by private companies and payments to Aboriginal communities.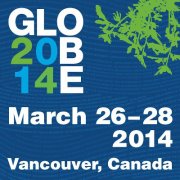 The upcoming GLOBE 2014 Conference comes at a critical juncture in the discussion on responsible resource management in the extractive industries sector.  On March 26-28, 2014 global business leaders will gather in Vancouver, Canada for North America's largest and longest running forum on the business of the environment.  
GLOBE 2014 will address transparency issues throughout the program and will dedicate an entire conference track to Responsible Resource Management in order to share insights from some of the world's leading thinkers on managing scarce and precious resources responsibly.  
The program will feature a specific session focused on Mines of the Future. This session will explore the emerging technologies and mineral production processes to reduce the environmental impacts of large-scale mining and oil and gas activities. See more here.  
For the full Resource Revenue Transparency Working Group Report visit: Recommendations on Mandatory Disclosure of Payments
For more information on GLOBE 2014 visit: www.globe2014.com