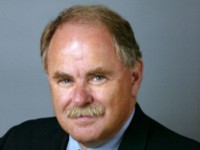 GLOBE 2014 is only two weeks away, and it's time to remind ourselves why we are here and what GLOBE is all about. 
Let's start with climate. The frequency of climate change and extreme weather-related events is increasing and their devastating impacts on our social, economic and environmental well-being is becoming ever more evident daily. 
Regardless of our views about what is causing these events, we cannot sit idly by. We have to act to build more climate resilient cities and to improve our capacities to respond effectively in times of chaos. That's one of the reasons why we are coming together at GLOBE. 
Dealing with climate change means some tough decisions have to be made in boardrooms across the nation, in all areas of the economy and in government. Money is tight everywhere, but we have to find a way to work together to make better use of what finances we have. That's another reason for meeting at GLOBE. 
New technologies will be required to help mitigate the impacts of climate change and help us make better use our critical renewable and non-renewable energy resources. That's too is why we are meeting at GLOBE. Everything about the emerging energy landscape will be on the table for discussion. 
We need to look more closely at what we take from and give back to nature, and we must earn the social license to operate in Aboriginal and developing economies. We have to do a better job at telling the world what we are doing to protect the environment and listen to the voices that tell us how we can do a better job in the future. 
These too are reasons why we are meeting in two weeks' time at GLOBE. 
What is GLOBE in a nutshell? We are here as a cross-sectoral, strategic event that combines a comprehensive conference program with a world-class technology exposition. We've been around since 1990 and more than 80 countries routinely take part in every GLOBE event. 
We are making a difference, but only because of you. We can create the environment for the free exchange of your ideas, your talents, and your efforts. But it is you, individually and collectively that makes it all happen. 
We sincerely hope you'll be there on March 26-28, to take part in and to lead discussions; to meet with your future business partners; and to help disseminate the practical solutions that are part of the business of the environment. 
GLOBE 2014 will be an important milestone in our journey together. 
Sincerely 
John D. Wiebe 
President and CEO