GLOBE-Net, November 1, 2013 –Many people have considered driving an electric powered car, but the next reality check is charging the EV. The infrastructure to support EVs is just getting underway for the most part.
Sun Country Highway, known for its electric vehicle (EV) charging products from highway corridors is expanding into the green home building envelope and installing level 2 vehicle charging stations in garages. The company is partnering with green home builder,  Terra View Homes.
 "In 2009 Terra View Homes built North America's' first ever LEED Platinum Green Dream Home. Now it is taking Green Home building to the next level by connecting the home with the garage through, the installation of Sun Country Highway's level 2 electric vehicle charging stations," said Stephen Bieda, SunCountry Highway Regional Director. "Terra View is really pushing the green building envelope by addressing the two largest emitting sectors together –buildings and transportation, he added.
Cost savings are realized initially when the electric vehicle charging stations are installed in a new built home that is pre-wired for such installations. Good news if you are buying a such a home and want an EV in the garage.
For a new construction home where pre-wiring is done in advance, the install cost can be around $200-$300. Without the pre-wiring the average home install of the EV charging station is estimated to be $1070 (excluding the cost of the charger) by the Ontario Ministry of Transportation. Ontario incentivizes the installation of electric vehicle charging stations up to $1,000 or 50% of the cost of the  charger and the install whichever is less.
 "Ontario has been a real leader in accelerating the adoption of electric vehicles with the implementation of vehicle rebates, charging infrastructure incentives and by allowing EVs with green license plates to use the High Occupancy (HOV) lanes," said Sun Country Highway VP Christopher Misch. He wants Ontario to update the building code so that new construction homes are required to have garages pre-wired with 240V plugs like BC and California jurisdictions have already done.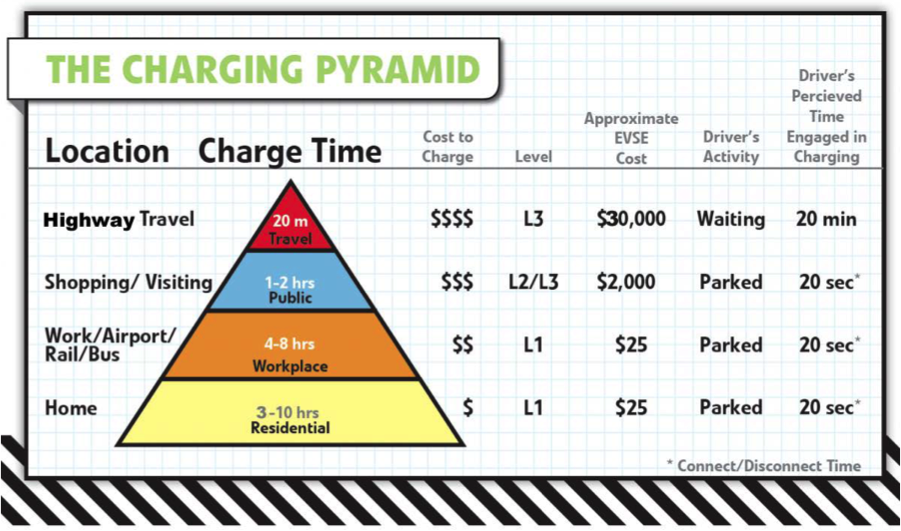 The average vehicle spends 90 percent of its time either at home or at work.
"The average vehicle spends 90% of its time parked either at home or at work so pre-wiring and installing 240 V level 2 electric vehicle charging stations at home makes terrific sense. Think about this, with your gas vehicle you have never in your life left your home with a full tank, but with an electric car, every morning you leave with a full charge," exclaims Sun Country Highway VP Christopher Misch.
Over 4500 plug-in electric vehicles have been sold in Canada since they were introduced in January 2012. During the same period almost 2000 electric vehicle charging stations have been installed.
The Canadian Automobile Association (CAA) has reported that 42 per cent of it's members would consider some kind of electric vehicle the next time they buy a car. 
Learn more about: Canadian Automobile Association's information on owning and driving an electric car: here
Read the June 2013 Report by the Community Energy Association produced for BC Hydro, Planning for Electric Vehicle Charging Infrastructure: A Toolkit
Green builder Terra View Homes
---

Doing Business in the Green Economy will be a major theme at GLOBE 2014 the next in the celebrated GLOBE Series of Conferences on the business of the environment taking place in Vancouver, Canada March 26-28, 2014. Reserve your place now.  Check here for more details.
---