GLOBE-Net, November 4, 2013 – One of the basic elements of warfare planning is to gather together your best generals and the most up to date intelligence to forge a campaign strategy that strikes at the enemy's weakest point while maximizing the impact of whatever is your strategic advantage.
That is exactly what is going to take place later this month in Toronto, Canada, when a diverse group of thought leaders will share their expertise and commitment to addressing key sustainability challenges facing our environment to plan the war on carbon.
From their discussions will emerge actionable ideas and solutions to reducing carbon emissions, as well as tactics for strengthening the resilience and future readiness of buildings and cities to deal with climate-related impacts.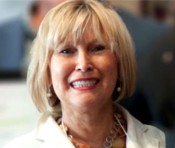 This dynamic, action focused Action Partners event will take place on Wednesday, November 20, 10:30 am-3:30 pm MaRS Discovery District, 101 College Street, in Toronto, Ontario.
The day will open with remarks by Yasmin Glanville (pictured above), Rethink Sustainability Initiatives Founder & CEO, and  Ilse Treurnicht, CEO of MaRS Discovery District, and will feature engaging presentations, lively debate and many networking opportunities with a cross sector of elite leaders focused on proven, game changing solutions to major sustainability challenges affecting business and the environment.
This is part of the planning for the war on carbon, and leading the discussion will be Peter Boyd, COO from Sir Richard Branson's Carbon War Room as well as a Leaders Circle moderated by GlobeScan Chairman, Doug Miller.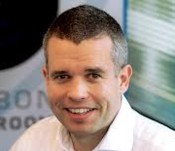 Peter Boyd (pictured left) will highlight the Carbon War Room's breakthrough strategies and projects for accelerating profitable solutions that reduce carbon emissions and improve energy efficiency in buildings, shipping, Island Nations and more; and the importance of private sector leadership as a key success criteria for mobilizing the conversation for action.
He served as Launch Director of the Carbon War Room from initial concept by Richard Branson and fellow founders in early 2009, and now focuses his time on developing and implementing the strategy in the three elements of Carbon War Room – Research & Intelligence, Network Engagement, and Operations. 
Doug Miller, Chairman of GlobeScan (pictured below), will present a few hard facts from the evidence and ideas gathered by his company's offices in London, San Francisco, and Toronto and from licensed partners in 55 other countries. He will them moderate  a 90 minute debate with a cross sector of senior business, energy and environment leaders and others in attendance ,  concluding with a few key actionable insights.
Taking a seat at the Leaders Circle debate will be: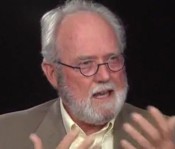 Trevor Ducharme, Managing Director, Daniels Carbon
Joanne Bjarnason, VP Marketing, Lafarge Canada
Perry Toms, President & CEO, Steeper Energy Canada Inc.
Dr. Daniel Kaute, President & CEO, Environmental Waste International Inc.
Tonya Lagrasta, Manager, Community Leadership, KPMG Canada
Frank Carnevale, SVP, Strategic Developments & Communications, SustainCo
Krishan Bhatia, President & CEO, Energy Network Services Inc.
Paul Dowsett, Architect and CanPHI Passive House Planner, Sustainable.TO 
The conference will wrap up with a summary of the day's key insights, actions and commitments. This will be co-led by Ron Nielsen a global Business Innovation and Sustainability expert, and Edwin Lim, the Founder & President of Ecolibrium.
An innovative carbon reduction project that is being formed by Rethink Sustainability Initiatives (RSI) in partnership with the Carbon War Room (CWR) will be announced at the conference.
Immediately after the conference ends, a more detailed discussion will be held for senior leaders with Carbon War Room' Peter Boyd and RSI Founder and CEO, Yasmin Glanville and  a few of the other project partners in attendance throughout the day. 
If you want to be part of the War on Carbon, Register now to attend this event
---
The event is being managed by Rethink Sustainability Initiative (RSI) under the direction of RSI Founder and CEO, Yasmin Glanville, who is also President and Chief Strategist of CTR Inc, a sustainability and innovation focused communication and business consultancy in Toronto, serving clients worldwide, primarily in financial services, communication, energy, social services, mining, environment and real estate sectors.
---

Developing Effective Strategies for Climate Adaptation
 will be a major issue discussed at 
GLOBE 2014,
taking place in Vancouver Canada,
March 26-28, 2014. 
Reserve your place now. 
 Check here for more details
.  
---