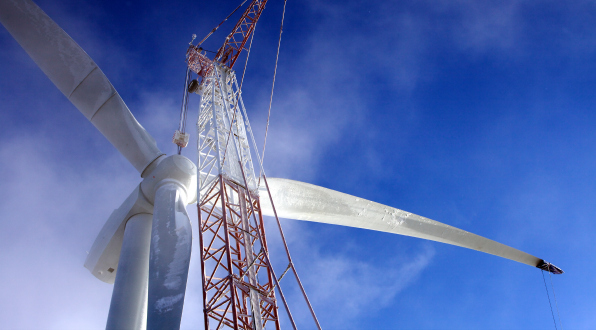 May 28, 2014 — Within 20 years, Alberta has the potential to drastically reduce its over-reliance on fossil fuels for power generation and replace it with renewable energy sources such as wind, sun, biomass, hydro and geothermal energy, according to a new report released by Clean Energy Canada and the Pembina Institute.
New modelling conducted for the report—Power To Change: How Alberta Can Green its Grid and Embrace Clean Energy—also shows that increasing clean electricity production will actually cost consumers less in the long run than continuing to rely so heavily on coal or natural gas combustion.
The report finds that a large-scale shift to clean energy would slightly increase the average price paid for electricity in the near-term (6.3 per cent by 2023). Soon after, however, the price difference would begin to shrink and ultimately head in the opposite direction. By the year 2033, modelling shows, the cost of power would be four per cent lower than it would be if the province opted to continue to rely on carbon-based generation. The clean scenarios could also provide greater security for consumers against unexpected fuel price shocks.
---
Related:
---
Ben Thibault, Electricity Program Director, Pembina Institute said "Alberta could cut its reliance on high-polluting energy dramatically, but the lack of a renewable policy framework has been a real barrier. The faster we begin that deliberate transition away from over-reliance on fossil fuels, the sooner Albertans will see the benefits of cleaner air, improved health, a more resilient energy system and, ultimately, less pressure on consumers' electricity bills."
The Pembina Institute and Clean Energy Canada produced Power to Change to inform Albertans that they have the resources, the know-how and the opportunity to become clean energy leaders, and to support the ongoing development of a provincial renewable energy framework.
[stextbox id="custom" float="true" align="right" width="300″ bcolor="d2d0d1″ bgcolor="dbdbdb" image="null"]Alberta's 19 coal plants produce as much greenhouse gas as the major oilsands producers, though the oilsands are often targeted in the province's battle to reduce its share of carbon emissions.[/stextbox]
Indeed, this may be an opportune time for this message. "Polling tells us that the vast majority of Albertans are ready to reduce their reliance on coal power and transition to a renewable energy future. Now we know that a wholesale energy transformation is not only technically possible, but that in the long-run it will actually save Albertans money," said Merran Smith, Executive Director, Clean Energy Canada and a speaker at GLOBE 2014.
---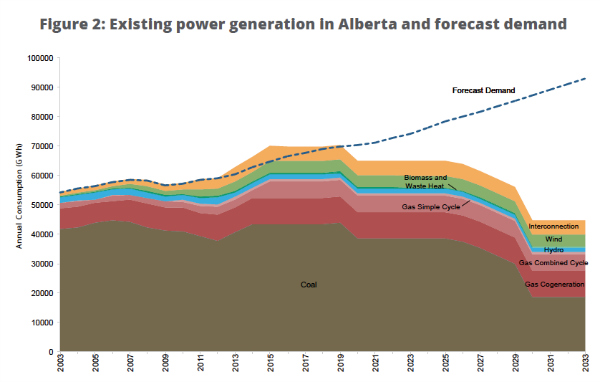 ---
A large-scale shift to renewable power would reduce the electricity sector's carbon pollution 69 per cent relative to business as usual. Rather than remaining mainly stagnant, then actually increasing in emissions out to 2050, the clean electricity scenarios would see immediate reductions and, within 20 years, would catch up to the electricity sector emission reductions that are already being achieved nationally
in Canada, according to a Backgrounder released with the report.
Getting there requires action now
The report does not recommend specific policies to transition and transform the province's electricity system. Rather, it outline the characteristics of a successful policy framework. Ultimately, the authors of this report would support any policy options that seek to achieve the following goals for Alberta's electricity system:
• Level the playing field for renewable energy sources by accounting for the presently hidden pollution and greenhouse gas costs of fossil fuel generation
• Address the major hurdle to financing for renewable energy projects by providing some degree of long-term price certainty for the electricity generated
• Prepare the groundwork and dismantle regulatory barriers for the widespread market penetration of new, clean generation technologies—such as distributed generation and storage technologies that integrate renewable energy into the grid
• Allow renewable energy sources— including distributed generation sources—to fully realize the value of the energy they produce.
Power To Change: How Alberta Can Green its Grid and Embrace Clean Energy is available at pembina.org and cleanenergycanada.org