Another step forward for Canadian Success Syory – Acquires Oil and Gas Pipeline Inspection Services Business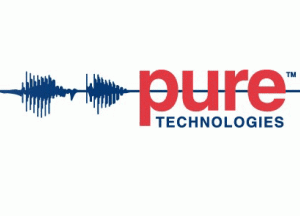 CALGARY, Sept. 12, 2014 /CNW/ – Calgary based Pure Technologies Ltd. announced today that it has entered into a definitive agreement to acquire the oil and gas pipeline inspection services business and related assets of Hunter McDonnell Pipeline Services, Inc. and its affiliated companies ("HM"), a leading provider of technology-driven integrity services to the oil and gas pipeline industry, for consideration of $8 million, consisting of $6 million in cash and $2 million in common shares of Pure, issuable in equal tranches on each of the first, second and third anniversaries of the closing date of the transaction.
Closing of the transaction is expected to occur early in the third quarter of 2014. For the financial year ended March 31, 2014, HM generated revenue more than $10 million.
"This is a highly accretive acquisition for the Company and will serve as a catalyst for expansion into the oil and gas pipeline sector," said Jack Elliott, President and CEO of Pure. "While we have been growing our presence in this sector over the past few years through the deployment of our SmartBall® leak detection technology, the acquisition of the HM business will accelerate this growth. Similar to our own strategy for the water sector, HM has been at the leading edge of developing and enhancing a suite of premium technologies and asset management services, from pipeline surveys and remote tracking of in-line inspection tools to risk assessment and engineering. When combined with Pure's existing services, the Company will be now able to provide hydrocarbon pipeline operators with unparalleled information for use within their integrity programs."
Since 2011, HM has provided tracking services on Pure's SmartBall technology inspections for the Company's North American oil pipeline clients. In August of 2013, Pure and HM entered into a partnership agreement whereby Pure trained HM staff to deploy the SmartBall technology in oil pipelines within North America.
"HM has built an excellent reputation for itself within the industry over the years," said Mark Holley, Pure's Executive Vice President and COO. "Considerable R&D spending has led to the development of HM's enhanced, proprietary products and services, patents and trade secrets. This has resulted in recent significant growth which is expected to continue as regulatory and stakeholder pressures drive increased emphasis on pipeline inspection and integrity programs."
HM's business will, following closing of the transaction and the transition of operations, be transacted through PureHM Inc. in Canada and PureHM U.S. Inc. in the U.S. ("PureHM"), newly-incorporated subsidiaries of the Company. Pure will transfer all of its activities related to the oil and gas pipeline industry to PureHM.  Shamus McDonnell, co-founder and CEO of HM, will assume the position of President, PureHM, and Jim Hunter, co-founder and Vice President of Operations for HM, will assume the same position with PureHM.
"We are excited to expand on the relationship we've enjoyed with Pure over the past three years," said Shamus McDonnell, co-founder of HM. "By joining a proven entity with a widespread geographical presence in North America and elsewhere, a strong research and development team and a healthy balance sheet, together we will be able to capitalize on the growing demand we are seeing for our services in the oil and gas pipeline market.
In addition, the SmartBall technology, with its enhanced pipe wall assessment capabilities, is ideal for complementing existing pipeline integrity programs, or as an integrity check on non-piggable pipelines which constitute the majority of hydrocarbon pipelines within North America. We see this unique technology as a natural fit with HM's innovative technologies and services, and we expect to see an acceleration of its use moving ahead."
For supplemental information on PureHM, please visit: http://puretechltd.investorroom.com/presentations-webcasts
About Hunter McDonnell Pipeline Services (HM)
Founded in 1995 by Jim Hunter and Shamus McDonnell, Hunter McDonnell Pipeline Services (www.hmpsi.com) offers a range of premium, technology-driven pipeline products and services to the pipeline industry. It is headquartered in Edmonton, AB, Canada, with offices in Houston, Texasand Oakland, California. HM's service offerings include third party pipeline pig tracking, right-of-way surveys and inspections, and pipeline integrity and engineering services throughout North America. HM has more than 60 full-time employees and provide services to over 200 customers.
HM generates revenue through the following service offerings:
Tracking of third‐party in‐line inspection tools utilizing ARMADILLO, a proprietary wireless remote tracking technology ("pig‐tracker") with real‐time web‐based user interface. This permits pipeline operators to track the progress of in‐line inspection tools from any Internet connection. Armadillo is recognized as an industry‐leading product and is the only third party pig‐tracker to reliably track Pure's SmartBall inspection tool in oil pipelines;
Over‐the‐line pipeline surveys utilizing HM's patented SPECTRUM XLI technology;
Pipeline optimization and management through HM's proprietary PipeWISE software platform;
Specialty pipeline integrity engineering services.
About Pure Technologies Ltd.
Pure Technologies Ltd. is an international asset management technology and services company which has developed patented technologies for inspection, monitoring and management of critical infrastructure around the world.  Pure's business model incorporates four distinct but complementary business streams:
Sales of proprietary monitoring technologies for pipelines, bridges and structures (SoundPrint®, SoundPrint® AFO);
Recurring revenue from data analysis and site maintenance for these technologies, and from technology licensing;
Premium technical services including pipeline inspection, leak detection and condition assessment (PureEM™, SmartBall®, Sahara®, PipeDiver®, PureRobotics®; PureMFL™;
Specialized engineering services in areas related to asset management, primarily in the area of pipeline condition assessment for water and wastewater infrastructure.
Source: Pure Technologies Ltd.