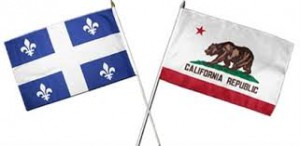 QUÉBEC, Dec. 10, 2014 /CNW Telbec/ – Québec's Minister of Sustainable Development, Environment and the Fight against Climate Change, David Heurtel and California's Secretary for Environmental Protection Matt Rodriquez today formalized a new collaborative effort aimed at the electrification of transportation.
The partners agreed to set up a Québec-California working group to facilitate the exchange of information on best practices in this area.
Concretely, the working group will focus on promoting the advantages of zero emission vehicles and sustainable mobility to consumers and private enterprise. In addition, the committee will facilitate the development and implementation of policies and initiatives supporting the sale and offer of zero emission vehicles in their respective markets.
In recent years, the partners have separately taken a number of initiatives to encourage the use of electric vehicles and stimulate this industry. These measures have borne fruit and led to many technological innovations. Indeed, thanks to investments in this field through its 2013-2020 Climate Change Action Plan, Québec now accounts for 50% of the Canadian electric vehicle market and counts four charging networks.
Minister Heurtel is very pleased by this new collaboration with California, stressing how important it is for Québec to address GHG emissions from the transportation sector, which is responsible for more than 44% of these emissions in Québec.
"The electrification of transports is a priority for Québec, because reducing GHG emissions and associated air pollution will have a beneficial effect on public health and on the quality of life of Quebecers and their children." Minister Heurtel stated.
"The electrification of transportation will also help reduce our dependence on oil and its related costs. It's a promising economic opportunity that will contribute to re-launching Québec's economy by encouraging innovation in technology research and development. We are eager to cooperate on sharing information with our California partner in order to advance this industry,"
Transportation Minister Robert Poëti is also pleased with this new partnership with California: "The electrification of transports builds on Québec's strengths, in which we take great pride. It banks on renewable supply of electrical energy and on our expertise in electricity generation and transportation. We believe in this project, which will support various initiatives related to passenger transportation (individual and public) and freight transportation."
"Electric vehicles are critical to meeting our long-term climate and air quality goals," said Matthew Rodriquez,California Secretary for Environmental Protection.
"California already has policies and initiatives designed to put more of these vehicles on the road, including an alliance with seven other American states. Our collaboration with Quebecwill help to further expand the market for electric vehicles, lowering costs for consumers and driving investment in the clean transportation sector."
Allies in the fight against climate change
The governments of California and Québec have shown the way in the fight climate change and have never ceased innovating. Both have chosen ambitious GHG emission reduction targets and taken bold measures to combat climate change. They are green technology leaders and were the first in North America to adopt light vehicle emission standards –standards that were subsequently adopted by their respective national governments.
The close collaboration that exists between Québec and California has been strengthened by the harmonization of their cap-and-trade emission allowance systems and their linking on January 1, 2014, giving rise to the biggest North American carbon market. The new joint working group on electrification consolidates the cooperation that has existed between the two governments for many years.