GLOBE-Net, April 24, 2013 – The United Nations Development Programme (UNDP) has released a guide to help in promoting investments in renewable energy in developing countries.
The goal of the guide – "Derisking Renewable Energy Investment" – is to support transparent policy-making using different public instruments to lower the risk factors for investments in renewable energy.
Around the world, developing countries are seeking to rapidly scale-up renewable energy investment. This shift to renewable energy is driven by a number of considerations. Many developing countries are struggling to meet fast-growing energy demand.
[stextbox id="custom" float="true" width="200″ bcolor="add3d5″ bgcolor="add3d5″ image="null"]About 1.3 billion people still lack access to electricity and 2.7 billion to modern energy services, with their human development held back through energy poverty.[/stextbox]

At the same time, the technology cost of renewable energy has been experiencing remarkably steady falls over the past decades (nearly 98 percent for solar photovoltaic (PV) modules since 1979.
However, barriers towards a full-scale transition to renewable energy in developing countries lie not just in technology costs but in the challenges of securing long-term affordable finance.
Financing cost is the primary determinant of generation cost for renewable sources, as renewable energy (other than biomass and biofuel) has no fuel cost but does have high upfront investment costs.
Even when all other assumptions are kept constant, in a developing country with higher financing costs, wind power generation cost, fore example, becomes 40 percent more expensive than that of gas because of the upfront capital intensity of wind technologies.
Hence the need for practical means to lower financing risks.
The framework consists of four stages.
The framework is structured in four stages:
Risk environment
Public instruments
Costs
Evaluation
Risk Environment:        The first stage characterizes the risk environment, identifying risks and investment barriers to renewable energy technology, and analyzing the effect of those risks on financing costs.
Public Instruments:     The second stage investigates public risk reduction instruments, and quantifies related reductions in financing costs.
Costs:      The third determines the cost of electricity by calculating the impact of reduced financing costs on life cycle costs compared to current in-country baseline energy generation costs.
Evaluation:        The fourth and final stage evaluates the public risk reduction instruments through sensitivity analysis and a variety of performance metrics.
In addition to presenting the framework methodology, the report demonstrates how it can be used in practice, using an exercise based on the promotion of large-scale, onshore wind energy in Kenya, Mongolia, Panama, and South Africa.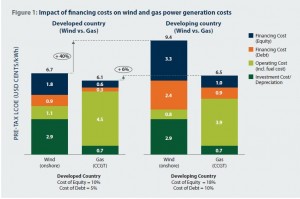 The report highlights the need for policy-makers to address risks to renewable energy investment in a systematic and integrated manner. This is the only way to overcome barriers set up by monopolistic market structures and an historical focus on fossil fuels.
It further concludes that financial risk reduction measures are likely to be cost-effective in comparison to direct payments of financial incentives to compensate investors for higher risk.
Alongside the report, UNDP has released a financial tool to calculate the impact of public instruments on a country's given baseline energy mix.
The following materials are now available for download: