"The audits I am reporting on today underscore that the government does not have the answers to many questions that impact the future of sustainable development in Canada."
GLOBE-Net, October 7, 2014 – This terse opening statement by Canada's new Commissioner of the Environment and Sustainable Development Julie Gelfand signals her serious concerns about the federal governments management of climate change and related issues.
The Commissioner said there were far too many unanswered questions about the federal government's management of greenhouse gas emissions, the environmental effects of oil sands development, energy exploration in Canada's arctic waters, and assessing the environmental impacts of major projects.
With respect to climate change emissions, little has changed since the last audit of the government's climate change management planning, she notes, and federal measures currently in place will have little effect on meeting our emissions targets by 2020.
Not only will Canada miss its international 2020 greenhouse gas emission reduction target, she states, the federal government does not have an overall plan that maps out how to achieve this target, what regulations will be developed, when, nor what greenhouse gas reductions can be expected, or how to coordinate climate change strategies with other levels of government.
---
---
Oil Sands Development
In its audit of the federal government's monitoring of the environmental effects of oil sands development, currently underway in partnership with the province of Alberta, the Commissioner states bluntly that the government does not know what Environment Canada's role will be with respect to oil sands monitoring beyond March 2015.
Nor has the government made clear the rationale for what oil sands related projects will be subject to environmental assessments.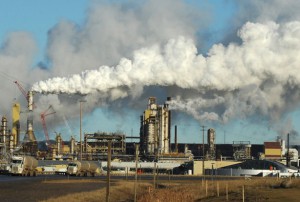 "I am concerned that some significant projects may not be assessed," she stated.
There remains much work to be done, she notes to understand the long term environmental effects of oils sands development, including cumulative impacts.
As well, Environment Canada needs to do a better job of integrating traditional ecological knowledge and engaging First Nations, Metis, and other groups, she argues.
Aboriginal People's Engagement
Responding to concerns expressed over the implementation of the new 2012 Canadian Environmental Assessment Act, the Commissioner noted that one objective of the new Act was to increase Aboriginal engagement.
However, she notes, many groups, including Aboriginal peoples, are concerned they do not have the capacity to participate meaningfully, which in turn may diminish public confidence in the environmental assessment process.
Canada's Arctic
Concerns were also expressed about Canada's role in supporting marine navigation in the Arctic. The audit found significant gaps in surveying activities for high-risk areas in the Canadian Arctic, which if left unaddressed could present problems as marine traffic increases.
"I am concerned that there seems to be no overall vision of what the federal government intends to provide in this vast new frontier, in terms of modern charts, aids to navigation and icebreaker services, given the anticipated increase in vessel traffic," noted the Commissioner.
Summing up, this year's audits shows that despite some initiatives and progress in certain areas, there remain many unanswered questions.
"In many key areas that we looked at, it is not clear how the government intends to address the significant environmental challenges that future growth and development will likely bring about," stated Commissioner Gelfand.
Federal Government's Response
Environment Minister Leona Aglukkaq in a statement also released today said "Our Government continues to take action to protect the environment while supporting economic growth and prosperity."
She cited in particular continuing efforts with Alberta, in partnership with aboriginal communities, to enhance this world-class scientific monitoring program, and the strengthening of internal practices for consultations throughout the environmental assessment process to engage First Nations, Métis, and Inuit communities.
She also referenced recent regulatory initiatives to reduce emissions and increase fuel efficiency for cars and trucks which will lower the sulphur content in gasoline by nearly 70 per cent and plans to phase down the use of hydrofluorocarbons, the fastest growing GHG on the planet.
"Canada is now a clean energy leader as we boast one of the cleanest electricity systems in the world with 79 per cent of Canada's electricity supply emitting no GHGs," she stated.
Full details on all aspects of the 2014 Fall Report of the Commissioner of the Environment and Sustainable Development are available here.