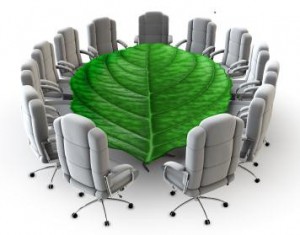 GLOBE-Net, March 7, 2015 – Entrepreneurs the world over are beginning to challenge business as usual thinking by infusing ethics into the notoriously ruthless corporate world.
So concludes Colleen Cordes, contributing author to a special chapter in State of the World 2014, published by the Worldwatch Institute.
Cordes, a public policy consultant and director of outreach and development for The Nature Institute of Ghent, New York, has studied the growing impact of benefit corporations and other triple-bottom-line companies, which strive to achieve positive social and environmental impacts, as well as to earn a profit in the transition to a sustainable economy.
"Put simply, the conventional economic model—amoral capitalism—and the willingness of so many investors and consumers to tolerate it are two of the most challenging threats to preserving a livable human future," writes Cordes,
Public restlessness has been growing over the past few years, she notes, as the environmental and social abuses of the conventional economic model become more apparent.
And while activists and labor groups, investors and consumers, and national and international nonprofit groups are pushing for more corporate transparency, corporations themselves are still central to speeding the urgently needed transition to sustainable economies, she notes.
"A remarkable new breed of business is volunteering to be held publicly or even legally accountable to a triple bottom line: prioritizing people and the planet, while also promoting profits," says Cordes.
Led mostly by small and medium-sized companies in the United States (and to a lesser extent in Canada and Chile), many of these companies have been pushing to be officially responsible for their social and environmental effects, not just their financial success.
An increasing number of large, multinational corporations are acknowledging their social and ecological responsibilities and are tracking their impacts in these dimensions. Many are using widely accepted social or environmental standards to publicly disclose their result, often with accompanying third party validation of the performance measure process and of the measurements themselves.
In Canada, telecommunications leader TELUS Corporation ranks high on the Corporate Knights list of top corporate citizens, rising from 70th last year to 37th place in 2015. Significantly, TELUS is the only North American telecom company in this year's list.
See Building a Future-Friendly World – Why TELUS is leading the way.
Almost all of these companies are privately held, although a few major corporations have recently become connected to the triple-bottom-line movement through subsidiaries they have acquired.
On the one hand, such acquisitions can expand the movement's reach. On the other, they also raise questions about whether the movement's identity and potential will be diluted if large corporations acquire smaller, triple-bottom-line companies but are not strongly committed to their new subsidiaries' particular social and ecological values.
Given this and other challenges, the rise of companies seeking public accountability for their social and environmental impacts is a small revolution, says Cordes.
But a few larger companies, like Patagonia and King Arthur Flour, have already joined the ranks. And there is considerable potential to entice other companies to enter the movement and to inspire the public to demand that other companies follow.
"Although it could take years for a Fortune 500 benefit corporation to emerge, such conversations—and broader advocacy by citizens and public interest groups—could begin now to firm up and speed up that possibility," writes Cordes.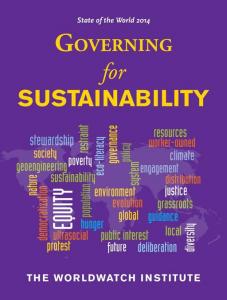 Worldwatch's State of the World 2014 investigates the broad concept of "governance" for sustainability, including action by national governments, international organizations, and local communities. State of the World 2014 also highlights the need for economic and political institutions to serve people and preserve and protect our common resources.  For more information on the project, visit here