By John D. Wiebe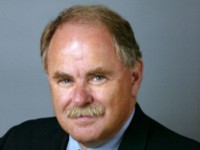 In the face of sharp volatility increases across the global economy and proliferating signs of resource depletion, the call for a new economic model is getting louder. The circular economy is now gaining the attention of business, governments, and the next generation as a model to transform today's "take-make-dispose" economy into one that aligns business models with product and material design to decouple growth from resource constraints.
Last month, the Ellen MacArthur Foundation announced Project MainStream, a collaborative initiative which aims to work with companies to tackle ways to enable the circular economy through materials management, information technologies, and business model innovation with the potential to generate US $500 million in materials savings and prevent 100 million tonnes of waste globally.
Industrial symbiosis is another collaboration-based tool that works to keep resources in productive use for longer. The model, developed by UK-based International Synergies Ltd., is relatively simple; all resources used in industrial processes are redirected (whether previously used or just under-valued) and used as inputs by other organizations, typically from a different industry sector (read the GLOBE-Net article on industrial symbiosis).
Jamie Butterworth, Chief Executive of the Ellen MacArthur Foundation, and Peter Laybourn, Chief Executive of International Synergies, will be joining many other industry leaders and sustainability experts at GLOBE 2014 to share strategic insights, develop collaborative partnerships, and participate in conference sessions and workshops dedicated to the circular economy. Other speakers include:
Hans Engel, Chairman & CEO, BASF Corp. & CFO, BASF SE
Jessica Fries, Executive Chairman, The Prince's Accounting for Sustainability Project (A4S)
David Labistour, CEO, Mountain Equipment Co-op
Ana Dominguez, Executive Director & General Manager, SC Johnson Canada
Lord Ian Livingston, Minister of State, Department of UK Trade & Investment
Wim Elfrink, Executive Vice President, Industry Solutions & Chief Globalisation Officer, Cisco Systems
Michael Braungart, Chemist & Founder, EPEA Internationale Umweltforschung GmbH
Peter Bakker, President & CEO, World Business Council for Sustainable Development (WBCSD)
Jim Balsillie, Chair of the Board, Sustainable Development Technology Canada (SDTC)
Dayna Baumeister, Co-Founder, Biomimicry 3.8
Thomas Carpenter, Managing Director, Sustainability Services, Waste Management Inc.
Christianna Wood, CEO, Gore Creek Capital Ltd. & Chairman, Global Reporting Initiative (GRI)
Daniel F. Muzyka, President & CEO, The Conference Board of Canada
John D. Coyne, Vice President, Legal & External Affairs & General Counsel, Unilever Canada Inc.
Bruno Sarda, Director of Global Sustainability Operations, Dell
Close to 10,000 participants from more than 50 countries will converge for GLOBE 2014 in Vancouver, Canada, from March 26-28, North America's largest conference and exposition focused on the business of the environment. Join more than 150 inspiring speakers and take part in 45 thought-provoking sessions across eight core themes and special tracks, plus many more workshops and special networking events.
I invite you to check out a few of the sessions featured in our Towards the Circular Economy theme or download the GLOBE 2014 Program Preview.
 John D. Wiebe is President and CEO of the GLOBE Group