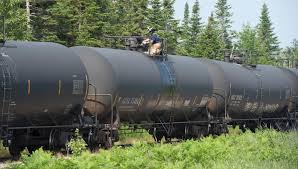 Gatineau, Quebec, 18 June 2014 – The Transportation Safety Board of Canada (TSB) has released its assessment of Transport Canada's response to recommendations made on 23 January 2014 in the wake of the Lac-Mégantic train derailment.
"There are risks to carrying more and more oil by rail and the Board's recommendations are aimed at bringing those risks down," said Wendy Tadros, Chair of the TSB.
"We are pleased with the strong first steps taken by (Transport Canada) and will be watching carefully for crucial follow-up action on Class 111 tank cars and route planning and analysis."
The Board's three recommendations dealt with tank car safety, route planning for trains carrying dangerous goods, and the availability of emergency response capabilities.
Vulnerability of Class 111 tank cars
The investigation found that, even at lower speeds, the older unprotected Class 111 tank cars (pictured above) ruptured, releasing crude oil that fueled the fire. For this reason, the Board's first recommendation called for better protection, to reduce the risk that these cars will be breached in an accident.
---
Related articles
---
Transport Canada responded by immediately prohibiting the most unprotected Class 111 tanks cars and by requiring older Class 111 tank cars to be phased out or retrofitted within three years.
"Canada is leading the way by aggressively phasing out older unprotected tanks cars," said Tadros. "Now we will be watching for tougher tank car standards – here and south of the border," added Tadros.
The Safety Board also released three Engineering Laboratory reports (LP149/2013, LP165/2013, LP168/2013) on the analysis of the Class 111 tank cars involved in the Lac-Mégantic accident.
Route planning and analysis for trains carrying dangerous goods
The Board's second recommendation called for strategic route planning and safer train operations for trains carrying dangerous goods in Canada.
In the short term, Transport Canada will require railways to put in place minimum key operating practices including speed restrictions, expanded inspections and risk assessments for routes over which more than 10 000 car loads of dangerous goods are carried annually.
In the long term, TC will require railways carrying dangerous goods to formulate and submit for approval new rules to improve their operating practices for the safe transportation of dangerous goods.
"While there has been positive action, we are urging TC to look carefully at the threshold for lower volume routes to ensure dangerous goods will always be moved safely," said Tadros.
Quoted in a Globe and Mail article, Tadros said "They have to look really carefully at the risks below that threshold" noting that the Montreal, Maine & Atlantic, the railway whose train crashed in Lac-Mégantic, transported 9,428 cars of petroleum in 2012 – suggesting that significant risks may exist, even on routes carrying a relatively low quantity of dangerous goods.
Requirements for emergency response assistance plans
In its third recommendation, the Safety Board called for emergency response assistance plans along routes where large volumes of liquid hydrocarbons are being shipped.
In response, Transport Canada issued a Protective Direction that ensures that there will be an approved emergency plans in place for the shipment of higher-risk hydrocarbons and ethanol.
"The Board is pleased with the immediate action taken on ERAPs. This is about making sure that, when something does go wrong, the right resources are in place," said Tadros.
The investigation of the Lac-Mégantic train derailment remains a top priority for the Safety Board. A team of experts continues to be dedicated to the investigation, which is now in the report-writing phase.
Lack of available pipeline capacity to carry increased volumes of oil from shale deposits in the US and Canada has resulted in a rapid escalation of oil moving by rail in both countries. There have been several serous train-related incidents over the past two years reflecting the increased safety and environmental risks associated with oil by rail.
The TSB is an independent agency that investigates marine, pipeline, railway and aviation transportation occurrences. Its sole aim is the advancement of transportation safety. It is not the function of the Board to assign fault or determine civil or criminal liability.