GLOBE-Net, April 8, 2013 – Energy-related carbon dioxide (CO2) emissions in 2012 were the lowest in the United States since 1994, at 5.3 billion metric tons of CO2. With the exception of 2010, emissions have declined every year since 2007 according to the U.S. Energy Information Administration (EIA).
The 2012 estimates of carbon dioxide emissions from fossil fuel combustion were 3.7 percent lower  than in 2011, and nearly 12 percent below 2005 levels.  The largest drop in emissions in 2012 came from coal, which is used almost exclusively for electricity generation.
During 2012, particularly in the spring and early summer, low natural gas prices led to competition between natural gas- and coal-fired electric power generators.
Lower natural gas prices resulted in reduced levels of coal generation, and increased natural gas generation-a less carbon-intensive fuel for power generation, which shifted power generation from the most carbon-intensive fossil fuel (coal) to the least carbon-intensive fossil fuel (natural gas).
---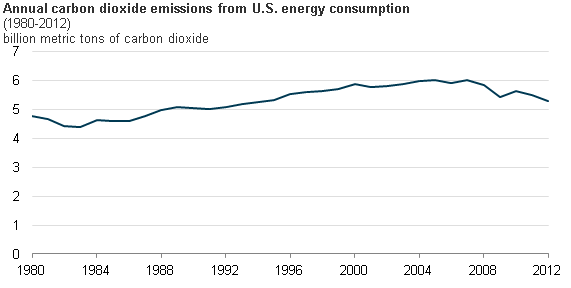 Source: 
U.S. Energy Information Administration, Monthly Energy Review
Download CSV Data
---
Other factors contributing to the lower emissions include decreased demand for transportation fuels and mild winter temperatures that reduced demand for heating. The warm winter months during 2012 (particularly in the first quarter) more than offset a slight increase in cooling degree days during the summer months.
EIA recently published preliminary data for January-December 2012 in the March 2013 edition of the Monthly Energy Review, which includes statistics covering all aspects of energy. EIA will publish a full analysis of 2012 energy-related CO2 emissions later this year.
---
Source: 
U.S. Energy Information Administration, Monthly Energy Review
Download CSV Data
---
A report released earlier this year compiled by Bloomberg New Energy Finance (BNEF) for the Business Council for Sustainable Energy (BCSE) attributed much of the emissions decline to new  energy-saving technologies and a doubling in the take-up of  renewable energy.
That report says a revolution is transforming how Americans produce, consume, and even think about energy. Traditional sources are in decline, while natural gas, renewables and energy efficiency are on the rise.
These changes, which show no sign of abating says the report,  have far-reaching implications for US economic and national security interests and  are increasing the diversity of the country's energy mix, improving energy security, and rapidly shrinking our 'carbon footprint' – a major positive development for addressing climate change.
"Behind this revolution are a slew of new energy innovations, technologies, and applications. These include: newly applied techniques for extracting natural gas from shale rock formations; lower-cost and higher-efficiency photovoltaic panels for converting sunlight to electrons; highly efficient, natural gas end-use applications; vehicles fuelled by electricity and natural gas; and 'smart meters' that allow  consumers to monitor, modulate, and cut electricity consumption."
The U.S. Energy Information Administration 2012 Emissons Report is available here.
---
GLOBE-Net provides you with news and information from the foremost public and private companies, government agencies and non-profit organizations on key issues relating to the business of the environment – which is everyone's business. Sign Up Today