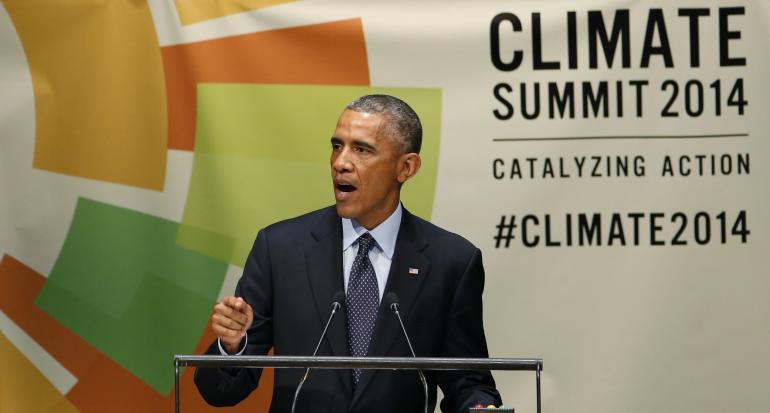 GLOBE-Net, September 24, 2014 – The question posed in a recent GLOBE-Net article was whether the Climate Summit convened by United Nations Secretary-General Ban Ki-moon was the beginning of the end or the end of the beginning for real progress in climate change negotiations?
According to the Secretary-General's summation of what he describes as a 'Great Day' bold new actions to immediately tackle climate change were announced by business, finance and leaders of many nations attending at yesterday's summit.
"Today was a great day – a historic day. Never before have so many leaders gathered to commit to action on climate change," Mr. Ban said, summing up the day-long event.
It set the stage for workable solutions for a universal climate agreement in 2015, he added as well as actions that could be taken now to "reduce emissions, enhance resistance to climate change and mobilize financing for climate action."
On the plus side, there were substantial commitments ($2.3 billion) to the Green Climate Fund, a key mechanism to transfer money from developed to developing nations to assist in adaptation and mitigation measures to counter climate change. More commitments were promised by November 2014.
Also announced was a new coalition of Governments, business, finance, multilateral development banks and civil society leaders to mobilize upwards of $200 billion to finance low-carbon and climate-resilient development, and private banks announced they would issue $20 billion in "Green Bonds" to double the market to $50 billion by 2015.
Statements in support of putting a price on carbon and intensified efforts to eliminate fossil fuel subsidies were made by various governments and business coalitions, and some oil and gas industry leaders, along with a few national governments committed to identify and reduce methane emissions by 2020.
"A new Compact of Mayors, representing 200 cities with a combined population of 400 million people, pledged new commitments to reduce annual emissions by between 12.4 and 16.4 per cent," added the Secretary-General, and a foremost spokesperson for this initiative was former New York City Mayor Michael R. Bloomberg who acts as the UN Secretary-General's Special Envoy for Cities and Climate Change.
Business leaders had a more prominent role to play at the summit. The heads of IKEA, Saudi Aramco, GDF Suez, Zenith Bank, Bank of America, Cargill, Unilever, Statoil, Veolia, BYD, McDonald's, and Walmart, among others got their 15 minutes of fame and made many (for the most part non-binding) commitments.
Perhaps the most significant business undertakings came from financial institutions, including pension funds and corporate asset managers, who promised to "decarbonize" their investment portfolios by $100 billion by the end of next year by pulling out of funding coal mines, oil wells and oil-palm plantations in rainforests.
"Climate change is more and more recognized as a financial risk," said Mats Andersson, CEO of AP4, a Swedish pension fund quoted in a New Scientist article. Both AP4 and the Dutch Bank ASN promised to make their entire investment portfolios carbon-neutral by 2030.
Klaus Schwab, executive chairman of the World Economic Forum, said "Historians may one day refer to our meeting today as the beginning of a new period of economic thinking where we internalize externality costs into our behavior as governments, as business, as cities, and as citizens."
Movie star Leonardo Dicaprio put it more succinctly. "'You can make history …or be vilified by it.'
Ban Ki-moon laid it on the line in very diplomatic terms that all nations – rich and poor – would have to be prepared to compromise in order to make progress to limit global temperature rise to less than 2 degrees Celsius by cutting emissions.
US President Barack Obama was more direct. "… we can only succeed in combating climate change if we are joined in this effort by every nation –- developed and developing alike. Nobody gets a pass," he said in his address to the assembled government leaders and delegates.
But despite the bold words the one day summit brought into relief some of the realities that have stalled progress on a new climate accord for over a decade. For example:
Brazil refused to halt deforestation by 2030 despite commitments by the United States, Canada and the European Union to halve forest losses by 2020 and eliminate deforestation by 2030.
The United States would not commit to putting a price on carbon, largely because the US Congress would only reject it;
China argued developing nations (including China), should be treated differently and be allowed to release more GHG emissions.
And despite several statements to undertake to reduce the use of coal for energy production, like most of the statements made throughout the day, these were 'non-binding.
What the UN Summit did achieve was to clearly demonstrate the widespread concern among ordinary citizens, business leaders, financial institutions and governmental bodies at all levels that now is the time for real action to deal with climate change impacts.
The upwards of 400,000 people that marched in New York, and the millions of others that demonstrated in over 190 cities around the world that climate change is far more than an environmental issue. It is a growing and painful reality that affects every facet of society – even to the point of putting our survival as a species at risk.
Mr. Ban urged everyone to maintain a spirit of compromise and commitment on the road to meetings of the UN Framework Convention on Climate Change in Lima later this year and in Paris in 2015 when a new binding accord on reducing greenhouse gas emissions could be forged.
We have to "put our house in order to make it liveable for future generations," he said. "Today's Summit has shown that we can rise to the climate challenge, he added."
Judging by some prominent no shows at the summit, including the leaders of China, Germany, India, Canada and Australia), it is clear not everyone is ready for the global house cleaning.
But the signs are promising, which is perhaps all that we could have expected from a one day gathering.