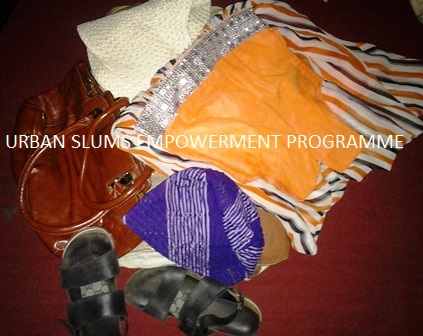 GLOBE-Net, August 21, 2014 – Africa is a continent facing many social, environmental and economic challenges. Urban poverty ranks near the top of the list, due in large part to accelerated increases in urban populations and the growth of urban slums in many African cities.
It is estimated that three quarters of Sub-Saharan African city dwellers live in slums and the expansion of urban slums threatens to make Africa one of the continent where urban poverty will worsen over the next decades unless more sustainable growth management is promoted.
Lagos, Nigeria is one of Africa's largest cities and an area particularly troubled by expanding slums, unemployed youth, poor sanitation systems and unhealthy living conditions – so much so that it was once described as 'the mega-city of slums'. More than 70% of Nigerians live below the poverty line.
---
"Unsustainable use of resources can take us just far but sustainable use can take us farther. The earth is spherical (not flat) therefore humans need to embrace circular economy not linear." Suhaib Arogundade, Team Lead, WasteWatch Africa speaking to GLOBE-Net 
---
Amidst these conditions a new initiative is being launched by WasteWatch Africa to empower urban slum dwellers with skills and resources needed to thrive and to assist in eradicating poverty.
WasteWatch Africa is a registered youth-led non-governmental social enterprise created to strategically see to the establishment of a clean, safe, and conducive environment that supports human livelihood and achieve sustainable development in Nigeria and Africa.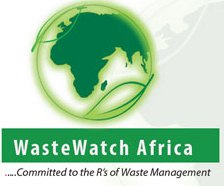 The Urban Slums Empowerment Programme is part of a WasteWatch Africa effort to tackle poverty and promote environmental sustainability. The programme works by training women and unemployed youth on entrepreneurial skills and financial literacy and also empowers them with recovered materials which are still reusable that they can sell. The initiative seeks to promote the 'Reuse' hierarchy of waste management.
The Urban Slums Empowerment project seeks to develop a localized 'circular economy' by making one man's trash another man's treasure.  The program works on a simple model:
Collect items from individuals and organizations
Sort and clean collected items
Train youth and women on entrepreneurial skills and financial literacy after which they are given the collected items to sell.
This will create the basis for a thrift market in the city, something that does not exist yet. It will also extend the life-cycle of the collected items, reducing raw material usage for the production of new items.
WasteWatch Africa has already partnered with one organization to implement a clean-up project in one of the slum areas of Lagos, the Makoko district. The 'Clean-Up Makoko' project was widely accepted by the slum inhabitants and enjoyed strong support from the traditional ruler of the community and Lagos State Waste Management Authority (LAWMA).
By September, the 1st Lagos State 2014 Inaugural Extended Producer Responsibility/ Zero Waste Conference will take place. Its goal is to help businesses to better understand how to minimize wastes through recycling and reuse.
E-w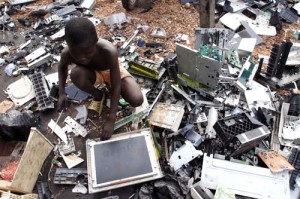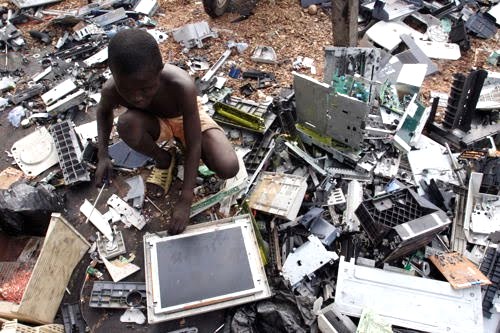 aste – discarded computers, televisions and other assorted electronic products which have flooded many African cities over the past three decades. While improper harvesting of materials from discarded computers poses serious health risks, this is one class of solid wastes recovery that has the potential to create street level employment.
The team organizing the Zero Waste Conference together with WasteWatch Africa is hoping to work with Dell Computers as Dell has initiated a responsible e-waste mining program to create jobs in Kenya. Together with the E-Waste Solutions Alliance for Africa, Dell is building a regional e-waste handling facility with numerous collection points run by independent local entrepreneurs. The facility buys e-waste from collectors, who are being trained and certified in the safe handling of potentially harmful components.
"Few of us with zeal and vigor are doing all we can to create awareness and popularize the available means of managing waste effectively. We are aware that for us as a continent to achieve sustainable development we must shift away from the linear economy and embrace circular economy. This is part of why we are organizing the first Zero Waste Conference in Lagos, Nigeria," said Suhaib Arogundade, Team Lead, WasteWatch Africa
Electronic products are not the only waste materials that are being targeted by the Urban Slums Empowerment project, notes Arogundade. In addition to computers, keyboards, monitors and display devices, plastics, aluminum cans and other salvageable items such as shown in the top banner above are among the many products that will be singled out as candidates for waste minimization and recycling.
For more details visit the WasteWatch Africa website