GLOBE-Net, April 25, 2013 – Six countries – the US, Japan, UK, France, South Korea and China have been named by KPMG International as the most active in using tax as a tool to drive sustainable corporate behavior and achieve green policy goals.
The finding is contained in the first KPMG Green Tax Index, launched today at the 2013 KPMG Asia Pacific Tax Summit in Shanghai. The Green Tax Index* explores how governments are using their tax systems to respond to global challenges including energy security, water and resource scarcity, pollution and climate change.
It analyzes green tax incentives and penalties in 21 major economies, focusing on key policy areas such as energy efficiency, water efficiency, carbon emissions, green innovation and green buildings.
The Green Tax Index is intended to raise corporate awareness of the rapidly evolving and complex global landscape of green tax incentives and penalties, and to encourage tax directors and sustainability chiefs to work together to factor green tax considerations into investment decisions.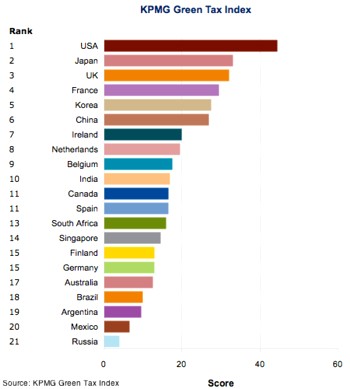 "Green taxation is a rapidly evolving and increasingly complex area," says Greg Wiebe, KPMG's Global Head of Tax.
"A multitude of challenges are facing tax functions worldwide. And, yes, this is an area of tax management requiring time, effort and dollars. However, if addressed with knowledge and pro-activity, the challenges can be opportunities."
"Governments are increasingly using green tax as a tool to change corporate behavior and to address serious challenges such as energy security, resource and water scarcity, and climate change," says Yvo de Boer, KPMG's Special Global Advisor, Climate Change & Sustainability.
"Our analysis shows that at least 30 new green tax incentives, penalties or significant regulation changes have been introduced in the countries we studied since January 2011. A pro-active approach to green tax can help companies reduce the cost of strategic investments, drive innovation, improve efficiency and secure competitive advantage."
The rankings show:
The US tops the ranking primarily due to its extensive program of federal tax incentives for energy efficiency, renewable energy and green buildings.
When green tax penalties alone are considered, the US drops to 14th, indicating that US green tax policy is weighted heavily in favor of incentives.
Japan is ranked 2nd overall but, in contrast to the US, scores higher on green tax penalties than it does on incentives. Japan also leads the ranking for tax measures to promote the use and manufacture of green vehicles.
The UK ranks 3rd and has a green tax approach balanced between penalties and incentives. The UK scores most highly in the area of carbon and climate change.
France occupies 4th place in the overall ranking and is also unusual in that its green tax policy is more heavily weighted towards penalties than incentives.
South Korea ranks 5th overall and, in common with the US, has a green tax system weighted towards incentives rather than penalties. South Korea leads the ranking for green innovation which suggests that South Korea is especially active in using its tax code to encourage green research and development.
China ranks 6th with a green tax policy balanced between incentives and penalties and focused on resource efficiency (energy, water and materials) and green buildings.
Australia ranks relatively high in the penalties index (sixth), in large part due to its recently introduced carbon price mechanism. However, it ranks lower (19th) in the incentives index. This is because the Australian government does not use tax incentives as widely as many other governments to drive green corporate behaviour.
Canada ranks 11th in the overall listings tied with Spain.
The US uses green tax penalties less than other Western developed nations, apart from Canada.
The only countries in the Index that impose fewer green tax penalties than the US or Canada are emerging economies such as Brazil, India, Mexico and Russia. China and South Africa are both more active than the US or Canada in imposing federal green tax penalties.
Implications for business
The KPMG Green Tax Index shows that governments are using tax beyond the policy areas of energy and carbon to address resource efficiency more broadly and to spur green innovation. Simply being aware of all the relevant instruments in place in all the markets where a company operates is in itself a significant challenge, particularly for multinationals. Resources and attention are often focused first and foremost on compliance with penalty legislation.
[stextbox id="custom" float="true" width="200″ bcolor="add3d5″ bgcolor="add3d5″ image="null"]Join us in the GLOBE Group – Be a leader in sustainability, cleanenergy, greenbusiness, cleantech & much more! Join the GLOBE Group here[/stextbox]

This means that, too often, insufficient importance is attached to strategic responses that could reduce exposure to those penalties. Without a proactive approach to green tax incentives, opportunities can be missed and the sums involved can be significant.
The study notes there are big opportunities to be grasped beyond cost reduction. Green tax incentives can make projects feasible that will help companies reshape their business and develop new markets, products and services.
More details on the report findings from the KPMG Green Tax Index can be found here.
---
*The  KPMG Green Tax Index attributes scores to green tax incentives and penalties according to arguable value and potential to influence corporate behavior. Scores should be taken as indicative, not absolute, in providing a view of governments with the most active and developed green tax systems in place.