National Zero Waste Council could be the key to new approaches for waste management in Canada
GLOBE-Net, September 12, 2014 – Canada has a poor record on waste management according to a Conference Board of Canada report – ranking 17 out of 17 in an international ranking of OECD countries.
But although there are serious challenges for waste management in Canada, promising opportunities abound according to a snapshot of the State of Waste Management in Canada released today by the Canadian Council of Ministers of the Environment (CCME).
The report is a jurisdictional review of waste management policies, waste reduction initiatives, waste and diversion programs, energy from waste initiatives, and waste disposal practices across the country, and identifies identifying trends, best management practices, barriers and opportunities for waste prevention,reduction and diversion in Canada.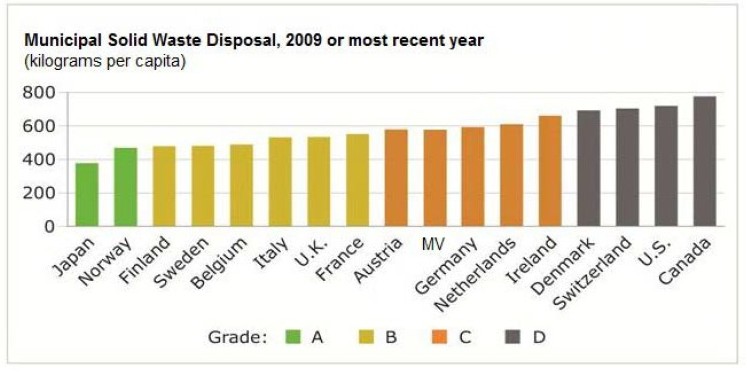 On average, Canadians produce over 34 million tonnes of wastes annually and three quarters of that ends up in landfills or incinerators.  In 2010 million tonnes of non-hazardous residential and non-residential waste was sent to disposal. This waste is expensive to manage ($2.9 billion annually), increases the demand for new natural resources and represents a missed opportunity to extract value from materials in the waste stream.
Spending by local governments across Canada to manage waste presents an enormous challenge for municipal budgets, one that cannot be contained. In 2010, local governments Canada-wide spent an average of $15 per person on the operation of disposal facilities, $5 per person on the operation of recycling facilities, and $2 per person on the operation of organics processing facilities.
Unfortunately the volume waste is growing, and along with it are the costs of managing the environmental impacts.  That is why new approaches to deal with waste management in Canada are urgently required.
The World Business Council for Sustainable Development "Vision 2050 – The New Agenda for Business Report" lays out a pathway to make a sustainable planet possible, by making material demand, consumption and production more in line with the limits of non-renewable resources. The report also suggests that the concept of waste can be rendered obsolete in normal business practice through a circular approach to resource use, where products and materials can be re-engineered to function again reducing the demand for raw materials.
---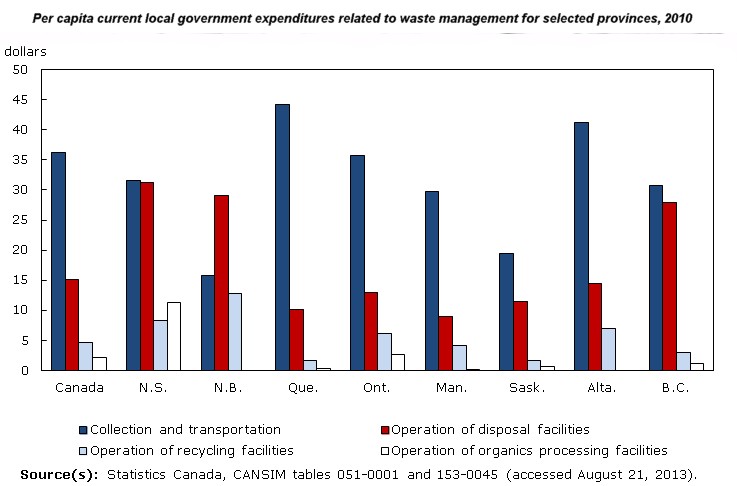 ---
The CCME report notes that Canada is a long way from achieving 2050 Vision objectives,  and suggests that there is room for improvement in waste management strategies, action plans, policies, and legislation in many Canadian jurisdictions through target setting  for waste disposal limits that drive action in waste reduction and diversion.
For example, most jurisdictions measure waste diversion from landfills only. While this is an important indicator it masks increases in waste generation overall. Waste policy frameworks need more direct engagement from the Industrial-Commercial-Institutional (ICI) sector either legislated or through negotiated agreements.
One of the key opportunities Identified in the report relates to upstream waste prevention and reduction and calls for greater Canada-wide collaboration between governments and industry stakeholders to achieve changes in the waste stream. This collaboration could happen via the newly established National Zero Waste Council (NZWC) which has members from municipalities, provincial governments, recycling councils, and large retailers.
Established in 2012 by Metro Vancouver and the Federation of Canadian Municipalities (FCM) the NZWC has embarked on a multi-stakeholder initiative to engage industry for waste prevention changes upstream, and to change consumer behaviour downstream to generate less waste.
In a 2013 Discussion Paper the Council observed that regulations that are overly prescriptive do not drive innovation to reduce waste upstream. Rather, governments that establish clear public health and environmental objectives and limitations regarding the use of public funds for waste management demonstrate better results from businesses to address waste prevention upstream.
This approach provides business an opportunity to drive innovation and develop feasible solutions that are not prescribed to them.
The Council also observed that design change is not restricted to physical changes in a product or its packaging such as using less material, making components replaceable or recyclable. Design changes can also be spurred through broader changes that create enabling conditions for preventing waste generation.
Examples include changes in pricing, changes in the marketing of products including the practice of bundling, and developing incentives, programs or services that enable consumers to share the use of products (e.g. tax reductions on car share programs, toy share programs, clothes or furniture reuse stores).
---
Zero Waste is a policy framework that goes beyond recycling to focus first on reducing waste and reusing products and then recycling and composting/digesting the rest, with the ultimate goal of achieving zero waste.
---
What the NZWC and similar organizations in Canada advocate philosophically is a shift towards a more sustainable global materials and waste management model and away from the prevalent linear consumption model where a product is sold, consumed and discarded; the Council supports a circular economic model where a product is sold, consumed, collected and re-made into a new product, returned as a nutrient into the environment, or incorporated into global energy flows.
The National Zero Waste Council is advocating for the development and enhancement of government policy and regulation and other approaches that encourage manufacturers and retailers to redesign products and packaging to reduce material intensity allowing them to be more easily reused, repaired and recycled.
A key element to success in these areas lies with strengthening Extended Producer Responsibility (EPR), a policy approach in which a producer's responsibility (physical and/or financial) for a product is extended to the post-consumer stage of a product's life cycle.
EPR shifts responsibility upstream in the product life cycle to the producer and away from municipalities. As a policy approach it intends to provide incentives to producers to incorporate environmental considerations in the design of their products.
EPR is well-established in BC, notes the CCME report, and could be easily adapted on a Canada-wide scale through more active engagement of stakeholders, improvements in technology readiness, and developing program requirements such as banning specific waste streams such as wood waste from landfills.
The National Zero Waste Council will be a key topic at Metro Vancouver's 4th Annual Zero Waste Conference, scheduled for September 16 at the Vancouver Trade and Convention Centre.
The Conference theme – Transform – Innovate – Collaborate will focus on shifting the dialogue and action on waste prevention and reduction to be more in line with a rapidly changing, resource-constrained world.
Business and government leaders will join innovators and practitioners to explore new products and systems, new materials, and new business models in keeping with a new economic landscape that is more circular than linear.
The CCME Report State of Waste Management in Canada is available here
See Metro Vancouver's 4th Annual Zero Waste Conference details here.
Learn more about the National Zero Waste Council here