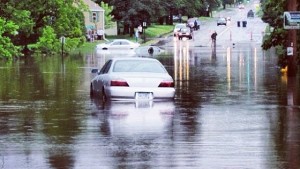 GLOBE-Net, October 23, 2014 – It's not your imagination. The weather has changed, is changing, and will continue to change. More torrential rain, more intense heat, more ice storms, more drought.  It's the new normal, and we all need to immediately start adapting if we want to protect our homes and families from the destructive effects of the wild weather that is now a part of our lives.
WEATHER GONE WILD explores recent extreme weather events and the scientific projections of what we can expect over the next few decades:  wild weather is going to become more common, and even wilder and more destructive. What we can we do to protect ourselves, our families, and the towns and cities where we live?
By the year 2050, just 35 years from now, Canada can expect:
• Double the number of extremely heavy precipitation events – with periods of drought in between.
• 5 times as many hot days over 30 degrees.
• 100% increase in wildfires.
• 50% less snowfall across the prairies.
• More hail and 50% more ice storms.
• More intense hurricanes.
As a result, the new global buzzword is "adaptation", as cities and citizens scramble to protect themselves.
4 Recorded disasters have been related to snow/ice storms in British Columbia since 1900.
What can we do to give ourselves the best chance of dodging this coming bullet?WEATHER GONE WILD travels to Calgary, Toronto, New York, Miami and Rotterdam to detail the dangers of the destructive new weather patterns, and show the innovative plans in each city to protect people and property from the weather's devastating effects.
In Canada, everything from farming, to the insurance industry, to building codes will have to change if we're going to weather the coming storms.  Most Canadian cities are particularly vulnerable because their aging sewer, drain, and electrical systems need to be massively upgraded to ensure a safe future.
As Blair Feltmate, University of Waterloo professor and Chair of Canada's Climate Change Adaptation Project says, "It's mission critical for the country.
We have to weather-harden the system. Climate change will continue to happen.  We need to figure out, what are we going to do about it?"
WEATHER GONE WILD answers that question with a number of practical steps Canadians can take to prepare themselves for destructive weather.  Even conservative estimates show that for every dollar spent now on weather adaptation, six will be saved when damaging storms do strike.
Coming soon, we'll have a timeline of significant weather events in Canadian history and free web app that provides practical and useful step-by-step information for Canadian homeowners on how to safeguard our homes and our families.
WEATHER GONE WILD is directed by Melanie Wood, written by Helen Slinger and Melanie Wood, and produced by Sue Ridout for Dreamfilm Productions in association with CBC-TV.
Watch Weather Gone Wild
Thursday, October 23, 2014 at 9 PM on CBC-TV