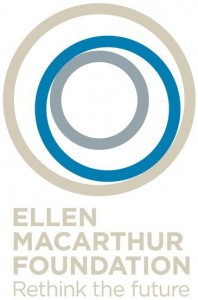 GLOBE-Net, November 20, 2014  Companies with circular economy business models currently struggle to raise investment because investors are generally unfamiliar with the concept of the circular economy
According to research to be published by the Ellen MacArthur Foundation, the lack of information about financial risk is a key reason why investors are hesitant to invest in companies following this business model..
Beate Sonerud, author of a Schmidt-MacArthur Fellowship study titled "Meeting the financing needs of circular businesses," says that investors who are aware of circular economy business models "all agree conceptually that they can capture some value from this," but the "key barrier so far is risk and lack of data."
Investors are wary about getting involved in new business models when it is hard to quantify the risks and returns. One issue that came up in Sonerud's research is that the residual value of assets – the sale value of assets at the end of their useful life – is important to investors, and data is currently lacking on this in relation to the circular economy.
---
See Also:  Towards the Circular Economy "In the face of volatility increases across the global economy the call for a new economic model is getting louder."
---
The circular economy faces particular challenges, Sonerud argues, because "system-wide change is required."
Large companies in particular might be interested in trialling circular economy ideas, but they face having to change not only the product that they offer, but also their systems for sales, marketing and remuneration for staff – who in a circular economy would no longer be rewarded for maximising sales.
Companies that want to move to the circular economy face a different situation from, for example, energy companies moving into renewables, which might involve operational changes but would still, in essence, result in the same end-product.
The circular economy has definite scope for growth, according Sonerud, but she estimates that 10-15 years are required before it becomes "mainstream." In the short term, asset financing – loans secured on assets – is likely to be the most promising route for circular economy companies to raise money for investment.
Other forms of financing, such as venture capital, might be held back by a perception problem. Sonerud says that many investors "just don't know what the circular economy is," and if they have heard of it, they associate it with corporate social responsibility or environmental sustainability, which many conventional investors believe will produce lower returns.
Public authorities can provide assistance to boost the take-up of circular economy business models, but "clever government support is the key," says Sonerud. Rather than providing grants or loans, this could involve provision of guarantees to reduce risks for investors, or support via public procurement.
Public authorities in the Netherlands, for example – which is regarded as the leading country on the circular economy – are starting to adjust their procurement policies to the circular economy and to rethink their waste policies.
One European Union project that could help circular-economy companies with access to finance is INNEON, which started in February 2014. INNEON aims to bring eco-entrepreneurs – which could include circular-economy entrepreneurs – together with investors that are interested in financing green economy businesses.
INNEON is also offering coaching, networking and assistance with issues such as patent applications and life-cycle analysis to eco-entrepreneurs.
More information
The report "Meeting the financing needs of circular businesses" by Beate Sonerud will be published under the Ellen MacArthur Foundation's Schmidt-MacArthur Fellowship programme, available here.