The solar industry in Australia is growing rapidly and changes in technology, cost and consumer preference are likely to continue to drive this trend in the coming decades.
GLOBE-Net, August 10, 2014 – A new report concludes solar use in Australia is growing rapidly, creating jobs and pushing down peak and average wholesale electricity prices.
The report, published by the Australia Institute, notes that solar PV employs over 13,000 people in Australia, significantly more than those employed by coal-fired power stations. More than 1.2 million solar PV panels have been installed throughout the country and roughly 3.1 million Australians live in houses or work in buildings with rooftop solar panels.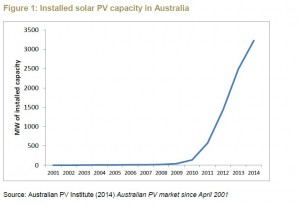 Export Potential is Huge
The rapid growth of the solar PV industry has also led to significant innovation in the installation of solar panels. The productivity of Australian solar panel installers is significantly greater than that of workers in the US, which could lead to opportunities for Australian solar PV firms to export their know-how and work practices around the world, concludes the report.
Financing the Transition
Another change driving the industry is innovation in financing solar panels installations. Solar panels have significant up-front costs but deliver a steady stream of future financial benefits. New financial products allow consumers to access low or zero up-front costs as well as a fair share of long term benefits from reduced energy demand from other sources and the capacity to sell back excess energy.
Australian firms could garner additional export earnings by developing and promoting attractive financial products which facilitate the uptake of solar PV, says the study.
World Wide Solar Growth
The accelerated growth of solar technology deployment is not unique to Australia. As noted in the GLOBE 2014 Conference panel session on Clean Energy Trends back in March 2014 in Vancouver, Canada, for the first time solar outpaced wind investments with 15% market growth in 2013.According to Deutsche Bank, by 2015, three-quarters of the world will have retail solar power available at grid parity (See the GLOBE 2014 Clean Energy Trends video here).
The International Finance Corporation (IFC), the financing arm of the World Bank, is already seeing grid parity with many of the renewable energy projects it's investing in globally (i.e., with no incentives required). IFC's investments in developing world renewable energy projects are mostly in two areas:
Grid-tied projects where the IFC is now seeing non-subsidized renewable energy projects going forward. For example, the Aurora Sol 39 MW solar plant in Mexico and the 50 MW SunEdison solar project in Chile.
Distributed energy projects, such as rooftop solar on public buildings in India, agriculture projects using solar irrigation, and refrigeration using solar and biomass power.
In the US, 200,000 solar PV systems were installed in 2013. With 800,000 new homes built that year alone (not to mention existing buildlings, there is enormous room for growth. American residential solar leader SolarCity has seen over 100% year-over-year growth in rooftop solar since 2006 and has set a target of reaching 500 MW in 2014.
Competition Remains
The success of solar PV in creating jobs, energy and lower prices is causing concern in the fossil fuel based components of the energy sector, says the Australia Institute report, so much so that many existing energy suppliers are seeking regulatory protection from their renewable energy competitors.
Falling costs and growing consumer support for solar PV inevitably will drive growth in the market share enjoyed by renewable energy technologies, notes the report's authors. A potential barrier to short term growth of solar use could be regulatory protection supports for coal-based energy suppliers which could impede or increase the cost of solar PV installations.
If Australia is to benefit from the employment, price, export and environmental benefits of solar PV it will be necessary to avoid the creation of such 'black tape' states the report.
---
The Australia Institute is one of the country's most influential think tanks conducting research on a broad range of economic, social and environmental issues. The Australia Institute report, Policy Brief No. 65, July 2014, ISSN 1836-9014, by Matt Grudnoff and Richard Denniss, is available here. 
---
See also Home Solar Panels: Pros, Cons, and Hidden Costs
Watch this informative video presentation by GLOBE 2014 Speaker Amory Lovins, Co-Founder of the Rocky Mountain Institute as he counters the storage necessity myth associated with high renewables electricity systems.