CALGARY, Feb. 3, 2015  – GE (NYSE:GE) announced winners from India, Italy, the Netherlands, and the United Kingdom in the first phase of a $1 million Ecomagination Innovation Challenge.
The winning submissions address alternative uses for waste heat in the SAGD (steam assisted gravity drainage) oil extraction process, ultimately reducing GHG emissions.
GE launched the challenge in July 2014 to accelerate the development of technologies that improve productivity and environmental performance in the oil sands.
Winners will have the opportunity to work with GE's global research teams and other partners to further develop their proposed solutions, and test proof of concept.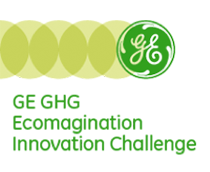 "This is the 6th Ecomagination challenge, and it is proving to be an exceptional way to tap into global brains from across industry to solve operating challenges," said Elyse Allan, President and CEO, GE Canada.
"It s an effective way to speed up the development process by working with entrepreneurs and universities to test, scale and commercialize promising new technologies.  We all learn a great deal from each other."
The Phase I winners of the GE GHG Ecomagination Innovation Challenge are:
Naren Chidambaram

, managing partner, Guha Industries,

India

– Naren's winning work for an Ammonia Water Heat Pump could offset fossil fuel consumption for the production of steam or power instead of using low grade heat.  The team's novel engineering seeks to improve the economics of this solution.
Stefano Consonni

, president, Consorzio LEAP,

Italy

– LEAP team's idea for an Opti-Up heat pump upgrades low grade heat to higher temperature heat which can be applied for use in steam production or power generation.  The novel engineering approach may help some of the traditional challenges associated with these types of systems.

Kees de Blok

, engineer, Aster Thermoacoustics,

Netherlands

– Kees's work utilizes changes in temperature from low grade heat to produce acoustic waves that can be harnessed to generate power.  This has the potential to offset fossil fuel consumption for power generation.

Ron Driver

, engineer, Technical Services Ltd,

United Kingdom

– Ron's design inspiration was a desire to save energy, reduce carbon dioxide emissions and a realization that his engine's thermodynamic cycle was ideally suited to recovering energy from the oil sand's low temperature heat.
Representatives from COSIA (Canadian Oil Sands Innovation Alliance) member companies, and Alberta Innovates-Energy and Environment Solutions served as strategic advisors for the competition, working along-side GE Global Research and GE Oil & Gas technical experts to bring field operating and commercialization experience to the selection process.
Dan Wicklum, COSIA's Chief Executive noted, "This process has helped bring some of our sector's biggest challenges to a global audience. This is a great way to tap into a world of expertise and fresh perspectives. The potential environmental benefits from implementing today's winning technologies, as well as future submissions, is very exciting."
GE also announced Phase 2 of the global innovation challenge which opened today.  The Phase 2 challenge is focused on finding technologies proven in other industries to enhance steam generator systems efficiency in the oil sands thereby lowering both emissions and operating costs. The deadline for submissions to Phase 2 of the GHG Ecomagination Innovation Challenge is April 9th, 2015. For more information please visit:www.geghgecochallenge.com
Check here for additional information on each of the winners and details on GE's search for waste heat recovery technologies that can provide immediate and long-term operational efficiency and environmental benefits, as well as affording a flexible array of paths for development and eventual deployment in the oil sands.