GLOBE-Net, November 2, 2014 – More than a dozen Electric Vehicles (EVs) from across the continent were on hand at Concord Pacific's False Creek Seawall on Saturday November 1st to celebrate the end of the month-long, trans-continental EV rally, the E-mazing Race 2014.
Organized by Sun Country Sustainability Fund, a non-profit organization that raises funds for free and accessible public EV infrastructure, the E-mazing Race 2014 began in St. John's Newfoundland on September 29 ending in Vancouver yesterday.
The E-mazing Race 2014 was not a dash requiring participants to cross the finish line first. Following official E-mazing Race Rules, participants earned points by visiting the most number of free Sun Country Highway charging stations across North America. Those participants crossing the finish line in Vancouver received bonus points redeemable for Sun Country merchandise.
The Sun Country Highway, is the longest electric highway in the world, with free chargers stretching over 10,000 kilometers from St. John's Newfoundland to Victoria British Columbia.
---

---
Sun Country Highway Vice President, Christopher Misch was on hand in Vancouver to welcome E-mazing Race 2014 participants, sponsors and to congratulate the winners for their pioneering spirit and outstanding accomplishments. In all, over 350 electric vehicles took part in the E-mazing Race 2014 race.
Earning top points in this year's race were Kathleen Gonsalves and her husband Ron from Portland, Oregon. The couple drove to St. John's in their 2013 Tesla Model S electric vehicle for the start of the E-mazing Race after a cross country trip through the United States. In all, Ron and Kathleen traveled 25,600 kilometers before reaching the finish line in Vancouver. "And we're still friends," noted Kathleen.
"At no point in time did we ever have any angst as far as being able to go to one location to another thanks to Sun Country Highway and the network of chargers that they have installed across Canada, it's just amazing" said Ron Gonsalves. "There's nothing like it in the world," he added.    
---
"Both of us cannot express enough our joy in traveling across Canada and all of the wonderful, generous people we met along the way. From St. John's where we hosted for a night out and were "screeched", to Woodstock, NB where we had the owner of the business Sarchfield Electric where we were charging give us his truck to go tour the area while we charged. Atikokan where we were taken for a tour of the area and had the mayor and city councilman come out to greet us. Almost every stop we were invited into the business, offered coffee and snacks and generally welcomed like we were family. Thank you Canada for your wonderful generosity and friendliness." Ron Gonsalves
---
 "Touring the Sun Country Highway Charging Network, the E-mazing Race brings unprecedented attention to the advances made in the electric vehicle movement as well as raise funds for further EV infrastructure development," said Misch. He also unveiled the latest Sun Country Highway offering, providing EV owners with the most convenient way-finding tool to hit the market, to revolutionize the how we travel today.
Sun Country is in the process of distributing over a thousand free charging stations across the 10,000 kilometer Sun Country Highway in Canada.
---
"Sun Country Highway does what others are not willing to do. We continuously re-invest our profits into Canada's EV infrastructure to lead change and promote emission-free travel. This project will help move the transportation industry forward and bring Canada a step closer to economic, social, and environmental sustainability. Oh Canada indeed." – Christopher Misch, Vice President
---
"The E-mazing Race has a positive message, showing how we can make sustainable choices and encourage people to join the EV movement, explore the beauty of our great nation and experience the longest, most comprehensive EV charging network first hand – driving eco-tourism locally and nationwide," said Kent Rathwell, Sun Country Highway President and Founder of both Sun Country Highway and the E-Amazing Race.
Headquartered in Saskatoon Saskatchewan, Sun Country Highway Ltd is a private Canadian owned company with the mission to create a global infrastructure for the electric vehicle industry, providing the most powerful electric vehicle charging technology in the market today.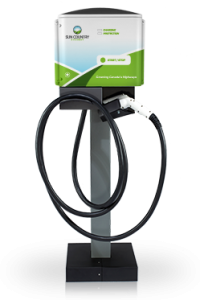 The company offers a comprehensive solution of charging infrastructure, technology, full sized electric vehicles, and a business model that empowers change for a greener future.
While many companies are installing pay-to-charge units in high-density urban areas, Sun Country Highways has focused on establishing a nation-wide network of free to use charging stations allowing EV drivers virtually no cost travel from coast to coast.
Sun Country Highway electric vehicle chargers are now deployed in over a dozen countries world-wide.
For more information on Sun Country Highways visit here.